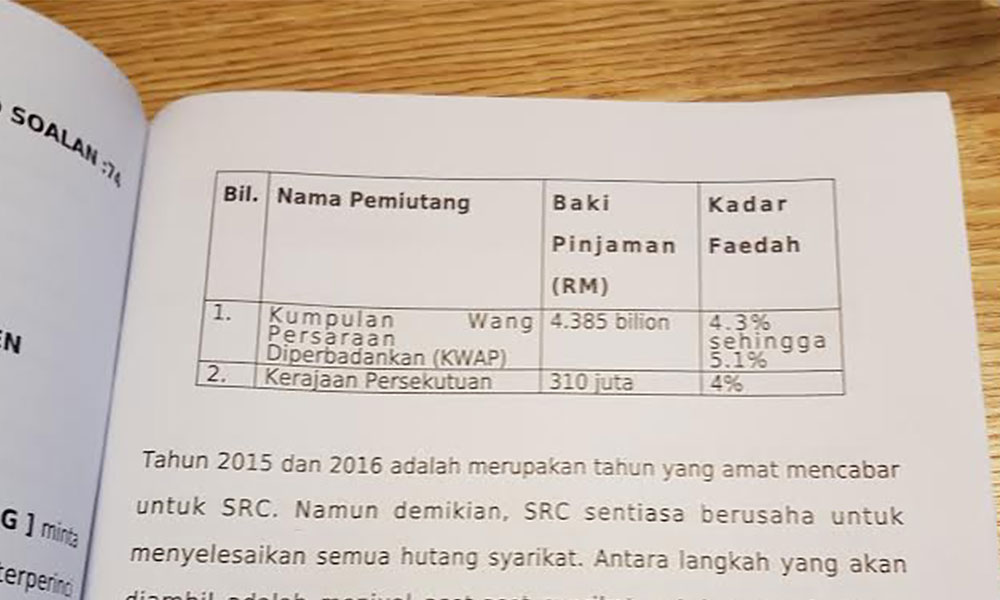 SRC International Sdn Bhd will sell its assets to repay its loan from from the government, says the Finance Ministry.
"2015 and 2016 was a very challenging year for SRC. However, SRC constantly tries to settle all of the company's debt.
"Among the steps being taken is to sell the company's assets to settle the debt to the Finance Ministry," it said in a parliamentary written reply.
SRC International was a former subsidiary of 1MDB but was later placed under the Finance Ministry in 2012.
According to the parliamentary reply, SRC International still owes the government RM310 million at an interest rate of four percent per annum.
Additionally, SRC International also owed the Retirement Fund Incorporated (KWAP) RM4.385 billion at an interest rate of between "4.3 percent to 5.1 percent per annum".
The Finance Ministry reiterated that SRC International will repay its loan from KWAP according to schedule.
However, the ministry did not mention the assets which SRC International plans to sell.
The parliamentary written reply was in response to a question by Selayang MP William Leong on SRC International's outstanding debt.
SRC International has received less international scrutiny compared to the scandal-plagued 1MDB as it was decoupled from the Malaysian fund.
However, it is a subject of Swiss investigations which believe that at least US$800 million from SRC International was misappropriated.
Prime Minister Najib Abdul Razak had also received funds from SRC International after the money passed through intermediaries.
However, attorney-general Mohamed Apandi Ali cleared Najib on wrongdoing on the grounds that he wasn't aware the money entered his bank accounts.
---
Source : @ Malaysiakini
---