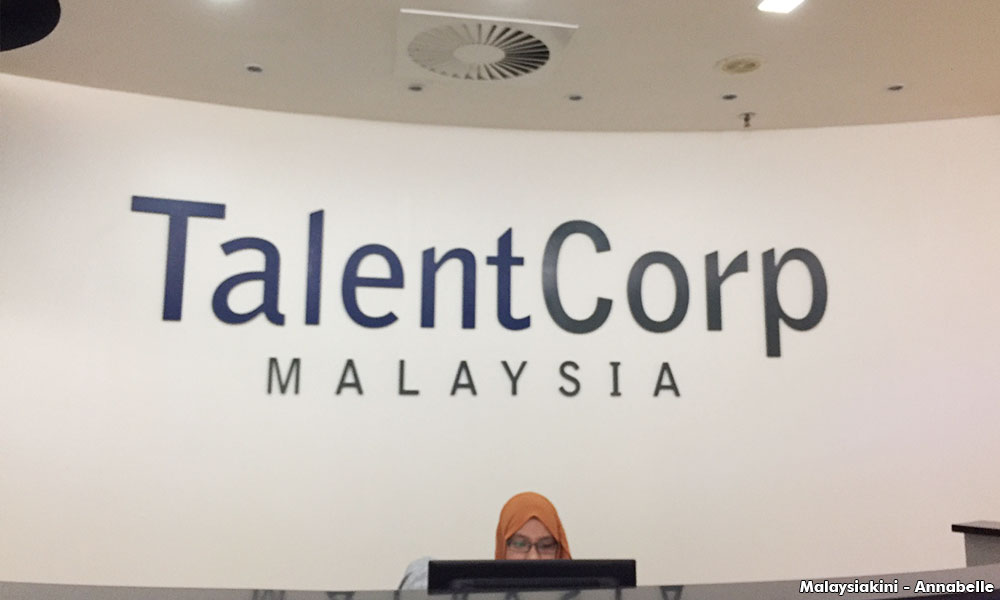 On June 1, Shareen Shariza Abdul Ghani of Talent Corporation (TalentCorp) Malaysia will have spent one year in her role as CEO. She succeeded Johan Mahmood Merican, who spent five years as TalentCorp's CEO.
TalentCorp was formed in 2011, and it received RM65 million to entice Malaysians to return home. In 2014, Johan expressed disappointment that despite various incentives, including tax exemptions on the cars that applicants imported into Malaysia, only 2,500 of the 1,000,000 overseas Malaysians had returned. The cost of enticing them is an eye-watering RM26,000 per person.
Either the incentives provided are worthless, or the Cambridge-educated Johan was ineffective as CEO, or applicants wanted something of substance to add to the value of their families' lives back home.
At the time of Johan's outburst over TalentCorp's failure to attract more Malaysians, one political cynic said, "You can put lipstick on a pig, but it will still be a pig. You can wrap fresh belacan in a fresh piece of paper, but it will stink to high heaven when you open the parcel.
"TalentCorp is a waste of time. How many millions of ringgits have been spent in trying to woo skilled and professional Malaysians to return? Johan should advise Shareen and the PM to close TalentCorp.
"In the first place, TalentCorp should invest the money in trying to stop talented Malaysians from leaving, or from being snapped up by other nations like Singapore or Taiwan.
"These countries are on the lookout for talent, like the Ipoh-born Tan Zhongshan, who was offered an Asean scholarship after his 'A-levels'. He received a first-class honours in Bachelor of Arts (Law) at Queen's College, Cambridge. Amongst the many prizes he won was the 'Slaughter and May' prize. Tan now works in the Singapore legal service."
Earlier this month, Shareen said that in 2013, 900 Malaysians returned home, 606 in 2014, 616 in 2015, and only 398 Malaysians in 2016. She claimed that the decrease in returnees was because TalentCorp wanted quality people, with the necessary expertise to overcome the shortage of skilled workers in Malaysia. Malaysians were reluctant to return home as their children were still in school.
One wonders if Shareen is being economical with the truth.
When TalentCorp held its events in London, various sources alleged that TalentCorp used to provide 'makan', because they believed that Malaysians would only attend if there was food.
One person who frequents these talks wondered who paid for the expensive venues and makan. He said, "Many talks are poorly attended, and the food is wasted, or 'tapau-ed'. Is the Malaysian taxpayer footing the bill?"
Are TalentCorp officials neglecting the fact that London-based Malaysian retirees were going to this makan to take advantage of the free Malaysian food? Any professional who is genuinely interested in returning via TalentCorp will only be attracted by talks by CEOs from Malaysia.
Last month, one TalentCorp participant said that the officials may have finally realised that serving food is a waste of time and money. He claimed that when he went, food is not served any more.
He complained that the Malaysian company delegates do not hang around to talk to the potential returnees, but leave soon after giving their talk. He found this irritating, as he wanted to ask them questions about his particular industry, and find out how easy it would be for his foreign wife to get work, and children to be enrolled in schools, in Malaysia.
This particular person contacted one of his colleagues who was a senior manager in one of the firms which had spoken at the TalentCorp function, and was told, "Why are they recruiting in London, when our firm is making many workers redundant, in Malaysia?"
The elephant in the room
TalentCorp may think that financial considerations, professional opportunities and a comfortable lifestyle are the main reasons that Malaysians prefer to work overseas. The elephant in the room, which many people, especially Talentcorp officials, refuse to acknowledge, is Umno Baru, its policies and its governance of the nation.
Of equal importance are the conservative ulama who interfere in the private lives of non-Malays, and especially of Muslims. Most damaging of all are the affirmative action policies, which allegedly breed resentment and intolerance.
Malaysians are as concerned about justice, human rights, the rule of law, democratic principles, equality between the sexes, as they are about fulfilling their potential whilst achieving their ambitions. Can TalentCorp understand this?
Malaysians will not return until these issues are addressed. TalentCorp must realise that many Malays have joined the brain drain.
---
MARIAM MOKHTAR is a defender of the truth, the admiral-general of the Green Bean Army and president of the Perak Liberation Organisation.
Source : Malaysiakini
---