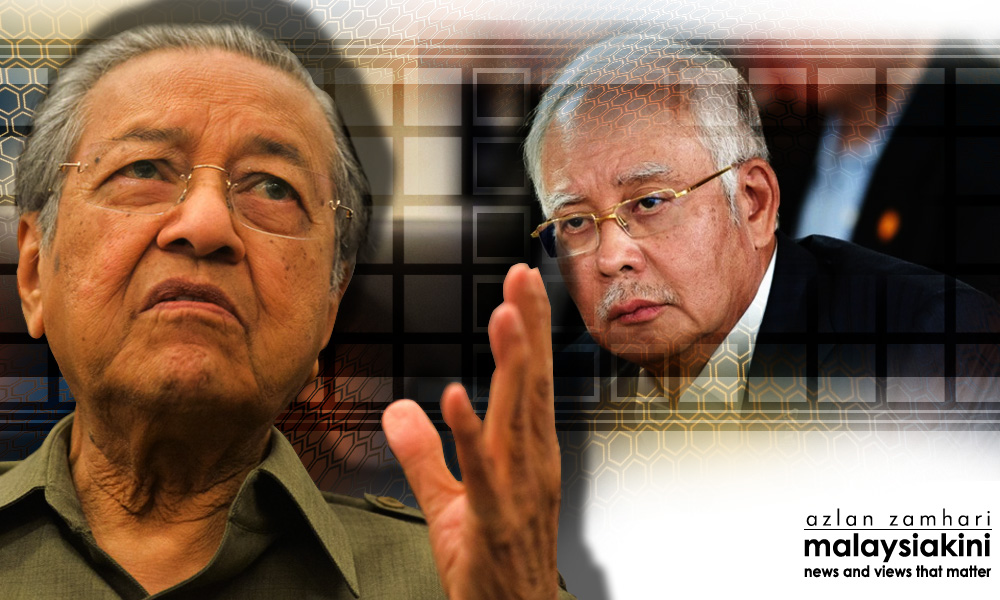 Former prime minister Dr Mahathir Mohamad has insisted that he cannot be compared with his former protege, Prime Minister Najib Abdul Razak.
"Don't compare me with Najib. I allowed a lot of things to be done, even people to challenge me in my party.
"Najib expels those people. Anybody who does not agree with him, he will expel," Mahathir, who is now one of Najib's most vocal critics, said in an interview with the Financial Times.
The reporter who interviewed him tried to point out he did the same during his tenure as prime minister, but Mahathir purportedly ignored him.
Mahathir also said he did not steal money and that he was satisfied with his salary as prime minister.
"I was happy to live on my salary, which to me was quite substantial, more than enough for my needs," he said.
He also pointed out that when he stepped down as prime minister, the country was well on its way to becoming a developed nation by 2020.
"Of course, they (his successors) are quite unable to achieve the objective," Mahathir said.
Najib has been embroiled in a financial scandal, involving his brainchild 1MDB, its former subsidiary SRC International and the RM2.6 billion deposited into his personal bank accounts.
The prime minister has consistently denied abusing public funds and the attorney-general has also exonerated him of all wrongdoing in these matters.
Mahathir, who is now Parti Pribumi Bersatu Malaysia (Bersatu) chairperson, has been a vocal critic of Najib's administration and of 1MDB since 2015.
In an attempt to remove Najib from power, Mahathir has also begun cooperating with his former political enemies, with his party Bersatu joining the opposition coalition Pakatan Harapan comprising DAP, PKR and Amanah.
"What happened in the past no longer matters. I am prepared to work with them and they are prepared to work with me because we have the same objective – overthrowing the government," Mahathir said in the interview.
He has also been critical of the increasing amount of China's involvement in local projects, such as the Forest City development.
"With the changes in (China's) leadership, we see more ambitious leaders coming in and maybe they like to flex their muscles a bit and that is very worrisome.
"Without actually conquering the countries, they have managed to increase their influence over many countries in Southeast Asia, even in South Asia," he said.
On his greatest regret, Mahathir said perhaps he should not have stepped down as prime minister because he was not able to pick good successors.
"A lot of people told me that I should not have stepped down, so, sometimes I regret that because I'm not very good at choosing people, choosing my successors or encouraging my successors.
"There were lots of accusations against me of being a dictator and all kinds of things.
"But I don't think if I did so many things wrong, people would ever want to take pictures with me or shake my hands," Mahathir said in the interview.
---
Source : Malaysiakini
---