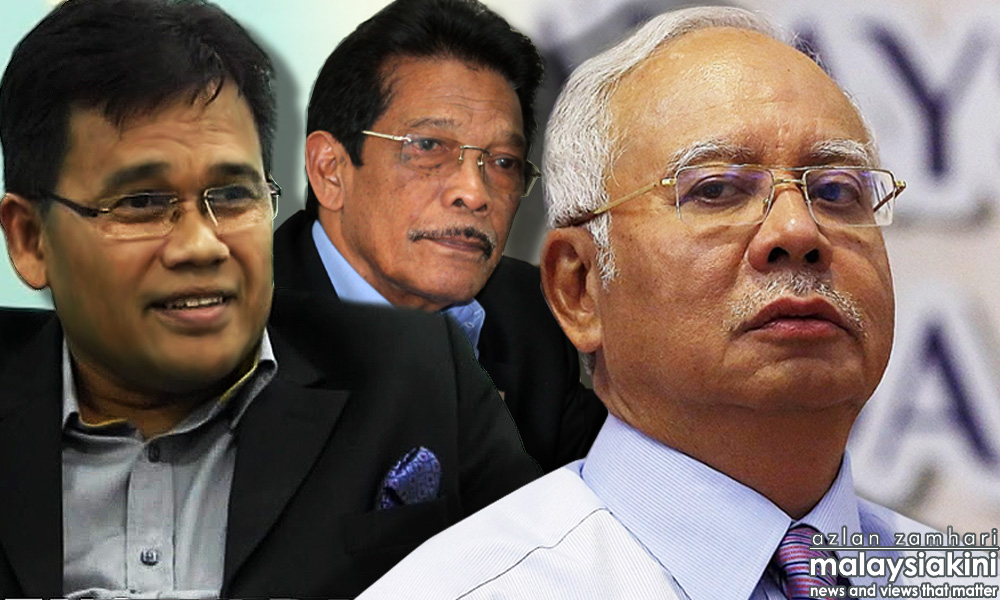 Senior lawyer Ghazi Ishak has denied knowledge that a payment he received from Prime Minister Najib Abdul Razak in 2011 was linked to the state-owned SRC International Sdn Bhd.
Whereas another senior lawyer, Salehuddin Saidin, confirmed that the Malaysian Anti-Corruption Commission (MACC) had investigated the payment from Najib, which his firm received a share of.
Ghazi and Salehuddin told Malaysiakini, in separate phone conversations, that the RM325,188 payment was divided between them and two other legal firms.
They had been hired to set aside a subpoena for Najib to testify in Anwar Ibrahim's Sodomy II trial.
"Four firms were engaged to represent Datuk Seri (Najib), and the payment was distributed among them," Salehuddin said.
However, both lawyers denied any knowledge that the money was linked to SRC International
"At that point in time, I think Najib signed the cheque himself, it didn't come from any company," Ghazi told Malaysiakini.
Salehuddin (photo) said "there was no reason to question where the money came from" and that they were not obligated to do so.
Ghazi and Salehuddin were engaged by Najib in 2011. At the time, the 1MDB scandal had yet to come to light.
The lawyers were responding to PKR vice-president Rafizi Ramli, who alleged that Najib paid a lawyer using SRC International-linked funds.
No intention of targetting lawyers
Rafizi when contacted, said he had no intention of targetting Ghazi or Salehuddin, and was confident that they did not know about the money's purported origins.
"My revelation is not focused on them. I don't doubt they are not involved (with SRC International) whatsoever. They were just lawyers doing their job.
"No one doing their job then (in 2011) would have had an inkling that the money had come from SRC International," the Pandan MP said.
Meanwhile, Salehuddin said the MACC had recorded his statement last year with regard to the payment.
"They asked what the payment was for, and where the money came from," he said, adding that the MACC also did not say that the money could have come from SRC International.
Rafizi's claims were based on allegedly leaked MACC documents that were uploaded to a blog that the Malaysian Communications and Multimedia Commission has blocked.
The latest allegation comes hot on the heels of Sarawak Report claiming that Najib paid senior lawyer Muhammad Shafee Abdullah RM9.5 million.
Sarawak Report claimed that the payment was made in two tranches from the same account into which SRC International funds were transferred.
Shafee acted as chief prosecutor with regard to the Sodomy II case, when the matter was heard in the Court of Appeal and the Federal Court.
Malaysiakini cannot independently verify the claims by Sarawak Report, nor confirm if the alleged payment to Shafee was related to his role in the Sodomy II case.
Numerous attempts to contact the senior lawyer for comment have been in vain. Malaysiakini has also contacted Najib's press aide Tengku Sharifuddin Tengku Ahmad for a response.
Apandi cleared PM of any wrongdoing
In March 2015, Minister in the Prime Minister's Department Nancy Shukri told Parliament that Shafee was to be paid RM1,000 for acting as chief prosecutor in the Sodomy II trial.
Sarawak Report's allegation led the opposition to call for an investigation, claiming that it pointed towards a political conspiracy against Anwar, who is currently serving a five-year prison term.
Najib has denied abusing public funds for personal gain while attorney-general Mohamed Apandi Ali also cleared the prime minister of any wrongdoing.
As for the SRC funds, Apandi had said that Najib was unaware that money from the firm was transferred into his account, and that the prime minister had, at all material times, believed it was part of the RM2.6 billion donation he had received from a Saudi royalty.
Detractors have cast aspersions on the donation claim, especially in the wake of the US Department of Justice's (DOJ) 1MDB-related suits.
Najib, on the other hand, has blamed these allegations on a conspiracy to topple him from power, and pro-government supporters have accused Sarawak Report and its London-based editor Claire Rewcastle-Brown of being part of this campaign.
Rewcastle-Brown has denied these allegations.
---
Source : Malaysiakini by Zikri Kamarulzaman
---