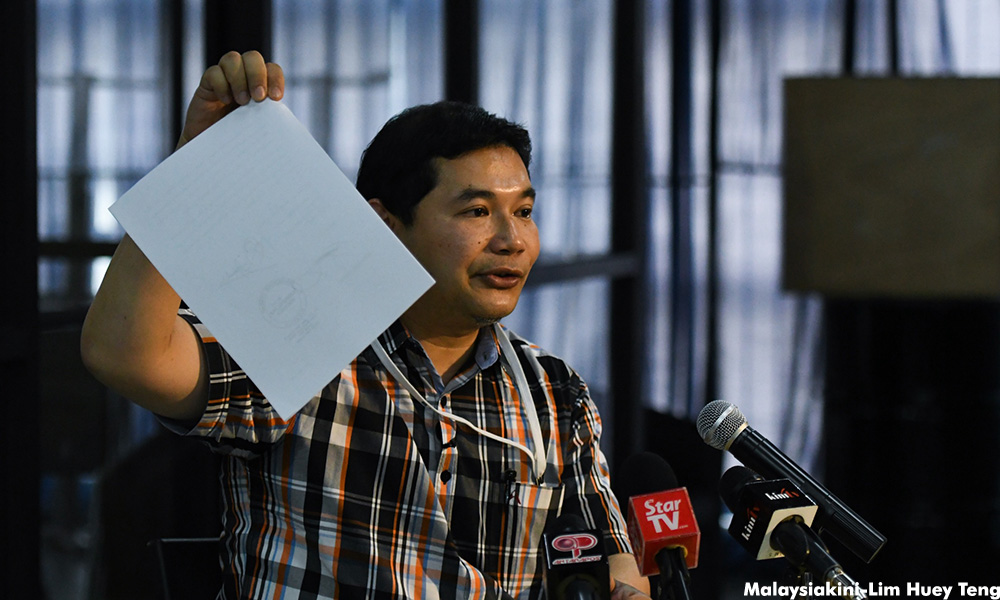 PKR vice-president Rafizi Ramli has claimed that Prime Minister Najib Abdul Razak paid another lawyer involved in Anwar Ibrahim's Sodomy II trial with SRC International-related funds.
Citing leaked Malaysian Anti-Corruption Commission investigation documents, he said Najib paid RM325,188 to lawyer Ghazi Ishak in 2011, to set aside a subpoena for the prime minister to testify and be questioned in the Sodomy II trial.
Rafizi claimed that MACC had verified the transfer and questioned another lawyer, Salehuddin Saidin, on the matter.
Rafizi also clarified that he did not mean to target either lawyer, and that he was confident they had no knowledge of the origin of the money they received.
"My revelation is not focused on them. I don't doubt that they are not involved (with SRC International), whatsover. They were just lawyers doing their job," he said.
When contacted by Malaysiakini, Ghazi confirmed having received the payment, and said that the payment was for him and three other firms.
"It was a payment for services rendered," Ghazi said.
However, he denied any knowledge that the funds were linked to SRC International.
Salehuddin confirmed with Malaysiakini that he was questioned by the MACC over the matter, as stated by Rafizi.
His firm was one of the four recipients of the payment.
However he too denied any knowledge of the money's origin.
Response to allegation being sought
The news portal is contacting MACC and Najib's press aide Tengku Shariffudin Tengku Ahmad for response with regard to Rafizi's allegation.
The documents cited by Rafizi, originated from the blog sprminsider.blogspot.com which the Malaysian Communications and Multimedia Commission (MCMC) has blocked access to.
The latest allegation comes in the wake of Sarawak Report claiming that the prime minister paid prominent lawyer Muhammad Shafee Abdullah RM9.5 million.
Sarawak Report alleged that the payment was made in two tranches from the same account where SRC funds were transferred into. SRC is a state-owned firm and former subsidiary of 1MDB.
Shafee acted as the chief prosecutor in Anwar's Sodomy II when the matter was heard in the higher courts.
Malaysiakini is unable to independently verify Sarawak Report's allegations.
Najib has denied misappropriating public funds for personal gain.
Attorney-general Mohamed Apandi Ali has said that the premier was unaware of the transfer of SRC International funds into his personal accounts.
Rafizi in a statement claimed that the payment to Ghazi is proof that Najib was willing to use public funds for personal use.
"I think it is time to urge the Conference of Rulers to intervene and for a Royal Commission of Inquiry (RCI) to be formed," he added.
He said the RCI should probe Najib's use of public funds to pay lawyers in cases against his political foes, as well as how much impact, payments made to Shafee, had on Anwar's Sodomy II trial.
Putrajaya, in a surprise move on July 22, 2013, recruited Shafee to lead the prosecution team against Anwar at the Court of Appeal instead of the conventional practice of relying on public prosecutors.
The Court of Appeal on March 7, 2014, overturned the Kuala Lumpur High Court's decision which acquitted Anwar, sentencing him to five years in prison.
The Federal Court on Feb 10, 2015 upheld the conviction of sodomising his former aid, Saiful Bukhari Azlan.
---
Source : Malaysiakini
---