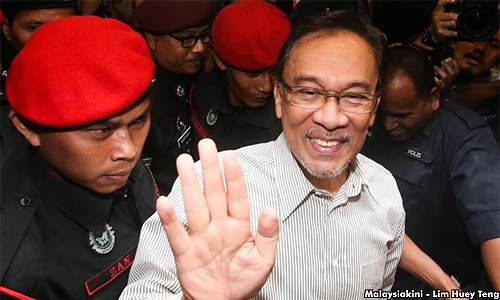 PKR de facto leader Anwar Ibrahim will be filing a legal challenge against his conviction and imprisonment for sodomy.
Based on a posting on his official Facebook fanpage, this is in light of claims that Prime Minister Najib Abdul Razak had paid RM9.5 million to prominent lawyer Muhammad Shafee Abdullah.
The legal challenge is expected to be filed at the Kuala Lumpur High Court this Friday.
Anwar's lawyer, N Surendran confirmed that the legal challenge was filed on grounds of the alleged RM9.5 million payment from Najib to Shafee.
Whistleblower website Sarawak Report had claimed that it had seen documents from investigators which claimed that Najib paid the money using funds he received from state-owned SRC International Sdn Bhd, a former subsidiary of 1MDB.
Shafee had allegedly received the funds from Najib in two tranches – on Sept 11, 2013, and on Feb 17, 2014.
Malaysiakini cannot independently verify Sarawak Report's allegation or confirm if the purported payment was related to the Sodomy II case.
Repeated attempts to solicit comments from Shafee and Najib have been unsuccessful.
Putrajaya had recruited Shafee on July 22, 2013 in a surprise move to lead the prosecution team against Anwar at the Court of Appeal, instead of the conventional practice of relying on public prosecutors.
The Court of Appeal on March 7, 2014, overturned the decision of the High Court in Kuala Lumpur, which acquitted Anwar, and sentenced him to five years' imprisonment.
The Federal Court on Feb 10, 2015, upheld the conviction of Anwar on his sodomy charges.
Parliament was told in 2015 that Shafee was paid merely RM1,000 for his services as prosecutor.
---
Source : Malaysiakini
---