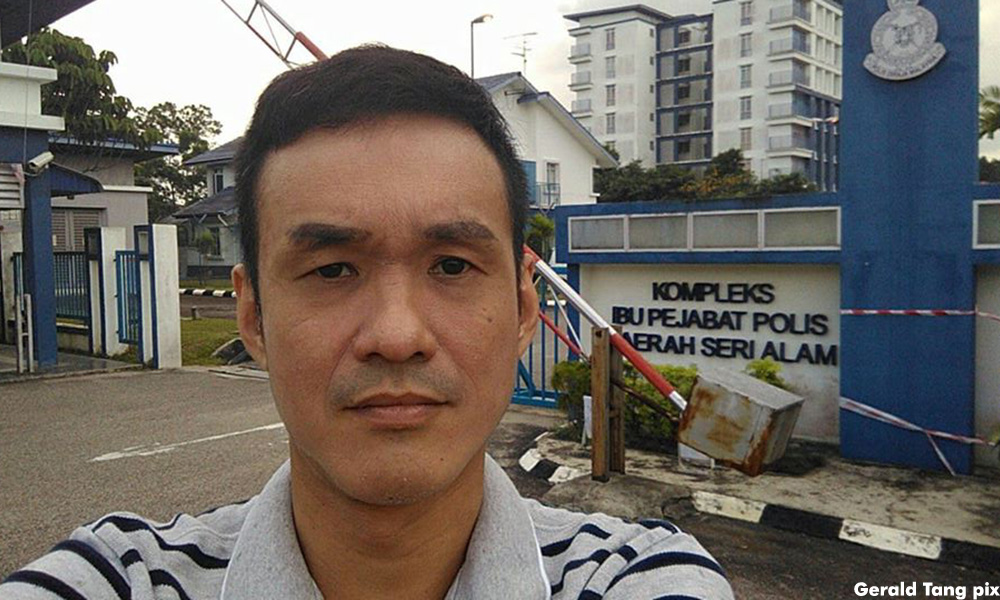 The Johor Bharu magistrate's court has allowed a two-day remand order against Invoke volunteer Gerald Tang, according to lawyer Jimmy Puah.
He added that the investigation officer had told him that the police would inform whether Tang would be charged, released, or have his remand extended tomorrow evening.
"I've just talked to the investigation officer. On Monday evening, we will contact each other and we will know what the police are going to do," he told Malaysiakini today when contacted after the remand proceedings.
Tang was represented in court by Puah, who is also the Johor PKR deputy chief, and Johor PKR chief Hassan Karim. Puah said the hearing took place at about 4pm today.
"They (the police) asked for four days. We argued that the investigation should have been completed, this is a high-profile case, and it infringes my client's freedom and constitutional rights.
"The judge cut it to two days, so he will be remanded further today and tomorrow," Puah said.
Accused of theft
Puah was arrested at the Seri Alam district police headquarters yesterday when the appeared for questioning in relation to an investigation on missing mail and documents from mailboxes in Taman Molek, Johor Bharu.
Seri Alam district police chief Jokhiri Abdul Aziz had previously said that Tang is being investigated under Section 379 of the Penal Code, which covers the punishment for thefts.
According to Invoke coordinator Mohd Rafizi Ramli, Tang had assisted the group in confirming the business address of Godfrey Group Ltd, which had supposedly engaged the lobbying services of a former aide to US President Donald Trump, Healy Baumgardner-Nardone, to promote bilateral relations between Malaysia and the US.
Documents lodged by Baumgardner-Nardone to the US Department of Justice under the country's Foreign Agents Registration Act 1938 indicate that Godfrey Group is located in Taman Molek.
Tang faces seven years' imprisonment, or a fine, or both upon conviction.
Malaysiakini had made several attempts to contact an NGO located at the same Taman Molek address since May 30, and is still awaiting a response.
---
Source : Malaysiakini
---