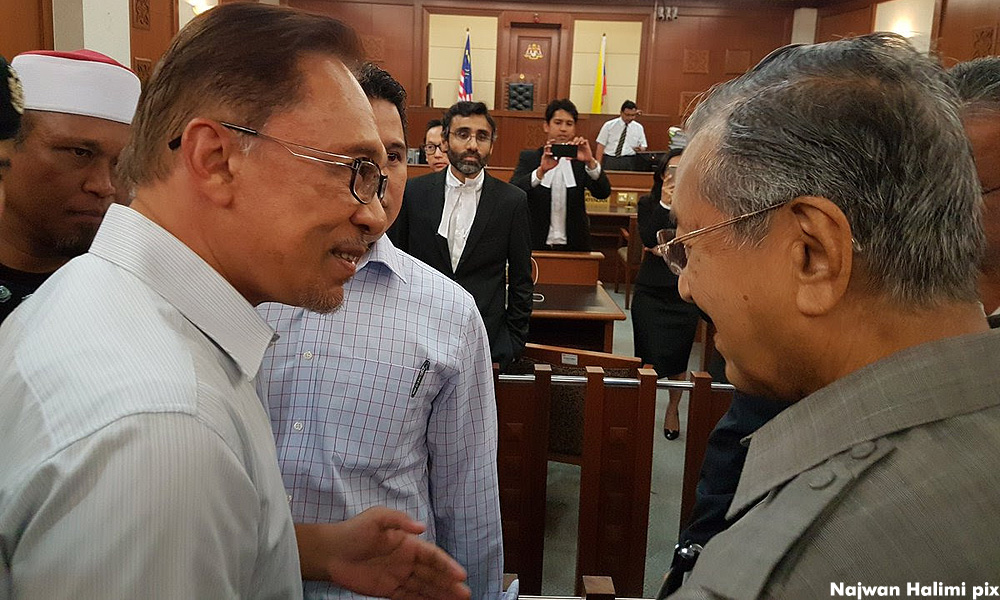 With a flair for the adroit political manoeuver that seems to have deserted him in recent years, Anwar Ibrahim has withdrawn as nominee for Pakatan Harapan's PM-designate role, clearing the way for the coalition to choose Dr Mahathir Mohamad for the position.
Coming as it does in the wake of the US Department of Justice's (DOJ) filings in court on how and where billions from state investment fund 1MDB have gone, Anwar's move helps to ensure public attention is fastened where it properly ought to be: on the shenanigans surrounding the debt-riddled sovereign wealth fund.
Otherwise, continuing disagreement in Harapan over who among its leading lights must be the coalition's first among equals will distract public attention from Prime Minister Najib Razak's increasingly unsustainable explanations of the 1MDB issue.
Resolving Harapan's leadership issue is vital for the projection of opposition cohesion vis-a-vis a ruling BN coalition as yet unperturbed by what the 1MDB issue says of its willingness to continue supporting Najib as its standard bearer.
'As yet unperturbed' would be the operative phrase here, as even an ostrich-like readiness to bury one's head in the sand and ignore what the latest revelations in the 1MDB saga say about the credibility of the Najib government, would be akin to a spectacle by the masses in Pyongyang that periodically display their affection and support for North Korean leader Kim Jong-Un.
The BN is not yet a facsimile of the Worker's Party of DPR Korea; it would be, if it persists in its support of the Najib administration's stonewalling of the truth on 1MDB.
To Anwar's credit
What as an issue began as a thorn in the flesh has metastasised into a dagger in the heart. Harapan can be hopeful of the first stirrings of tumult from within the BN fold.
Which is why a quick Harapan decision now on making Mahathir its point man would mean that the earliest and most consistent critic of Najib's handling of the 1MDB affair would do for Harapan and the public, what Samuel Johnson said knowledge that one is to hang in two weeks does to a person: it concentrates the mind wonderfully.
Anwar is to be credited for paving the way with his withdrawal as Harapan PM-designate to enable a laser-like concentration on the biggest financial scandal to beset a country in modern times.
As a politically astute calculation, this decision of his is reminiscent of his support for the Hindraf-organised demonstration in Kuala Lumpur in November 2007 aimed at highlighting Indian Malaysian discontent.
That decision was of crucial import to PKR's vaulting from one parliamentary seat to 31 just over three months later, at the 12th general election.
A Harapan decision to settle on Mahathir as head honcho will make it easier for the opposition to formulate a coherent and unified stance on PAS president Abdul Hadi Awang's Act 355 amendment (Act 355 ) that will come up in the next sitting of Parliament, scheduled to begin late next month.
Najib will have to bank on passage of that amendment bill to keep Hadi within fraternal distance of Umno, a stance that the Islamist party will find harder than before to maintain, given what its deputy president, Tuan Ibrahim Tuan Man, is saying about the latest revelations in the 1MDB saga.
Najib's Act 355 shaky
With significant sections of the BN chapters in Sarawak and Sabah flatly opposed to the further empowerment of the syariah courts that Act 355 entails, the PM is looking at the conversion of a once winning hand – at enticing PAS to become a splitter of votes for the opposition – into a losing gambit.
Hence it is of critical importance that Harapan formulate a unified stance on Act 355 and allow Mahathir to take its defence to the hustings.
Anwar has been hazy on this issue, which is understandable given his earlier incarnation as campaigner for an Islamist agenda.
Mahathir has no such baggage to encumber him and his reputation as a modernist positions him favourably for Harapan's 'nay' vote on Act 355.
As they say, in politics the dice is always rolling. The numbers that are apt to come on the latest turns bode well for Harapan.
---
Source : Malaysiakini by TERENCE NETTO
TERENCE NETTO has been a journalist for more than four decades. A sobering discovery has been that those who protest the loudest tend to replicate the faults they revile in others.
---