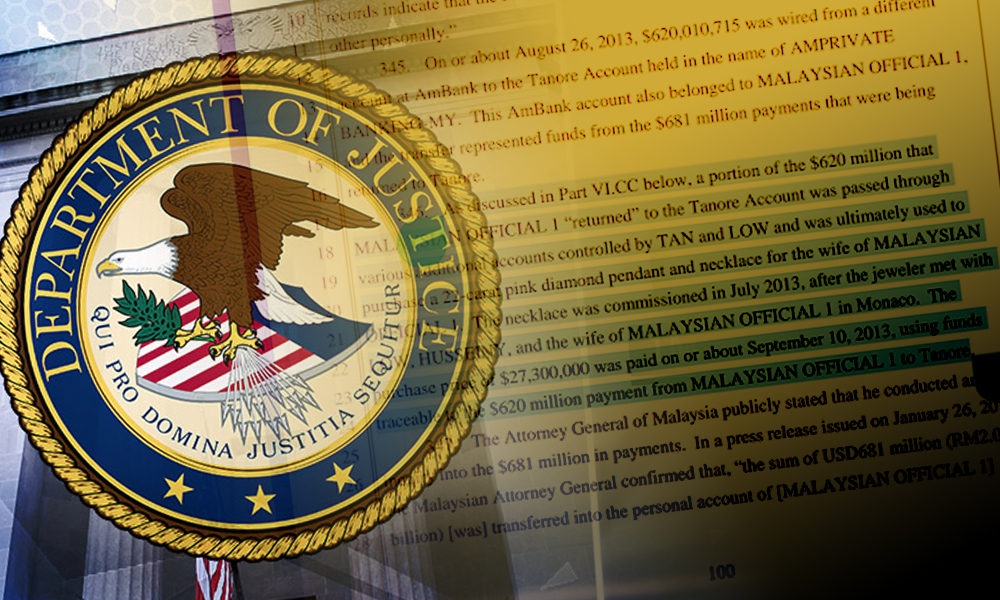 Over the past six days, so much has been said and so much has been written, and reported, on the latest filing by the Department of Justice (DoJ) of the United States. Opinions on the 1Malaysia Development Bhd (1MDB) – some unsolicited and others prompted – have clouded the space and airtime in both the print and electronic media.
So many people have said so many things – some bird-brained theories, some wayward questions and many incomprehensible statements. But above all, Malaysians can take consolation that they were a handful of intelligent analysis and positive examination of the issues.
However, the statements of two ministers leave the intrepid reader, listener, and viewer wondering: "what is going on?" At least two newspapers reported their response without telling readers what they were talking about.
It was akin to telling people "don't listen to the lies perpetrated by Nadeswaran" without telling them what were the lies I had concocted or spread. But reading all sides of the story, there is this inherent duty as a journalist to explain why certain things are done in certain ways without resorting to lies as avowed by certain parties.
Let's examine their assertions: Communications and Multimedia minister Salleh Said Keruak argued that the pronouncement by the DoJ is a form of interference, as their claim is not confirmed to the subject matter: which is about an alleged crime committed on US soil.
The minister in the Prime Minister's Department, Abdul Rahman Dahlan demanded to know the names of the complainants which led to the DoJ's investigations.
To put the matter in the right context, let us look at each of these assertions.
"A large part of the DOJ statement talks about what is happening internally in Malaysia, and an even larger part has no relevance to the subject of whether a crime has been committed on US soil as alleged," Salleh said in a statement.
But what he does not understand is that the filings are part of its civil forfeiture action to seize assets it claims were bought using funds siphoned from 1MDB. No one is accusing the recipients of any wrongdoing although they may or may not have known the source of funds.
The more pertinent point is that foreign banks, in this case, US financial institutions, were used to launder the money stolen from 1MDB. But Salleh must agree that what is good for the goose must also be good for the gander.
When Singapore carried out discreet investigations over two years and acted against individuals and investigations into the laundering of money from 1MDB accounts, there was hardly a whimper. Some of the money was traced to 1MDB and other companies in which Malaysians were in control.
What was at stake was not where the money came from. It could have come from Timbuktu or from personal coffers of Mugabe or 1MDB. Did anyone ask the Monetary Authority of Singapore to identify the complainants?
It acted on its own volition and what mattered most was the island republic's reputation as an international financial hub. It acted to penalise those who had acted to use its systems and instruments to launder money.
At the end of it all, it slapped S$29.1 (about RM100 million) in penalties on eight wayward banks and convicted five bankers. Three of the five have been banned for life or a minimum of 15 years from Singapore's securities while another was banned for 10 years. Three more face bans from three to six years.
Singapore authorities, according to the Straits Times, stressed the scale of the probe had been unprecedented, spanning hundreds of thousands of transactions involving many shell firms and people operating in the US, Switzerland, Hong Kong, Luxembourg, and Malaysia.
Every sovereign nation has a right to defend itself and its institutions from being used for illegal activities, especially money laundering. The US and jurisdictions in other countries are just doing that or have done that.
To simplify the issue, let's use this analogy. Mr A steals money from a Bank B in Malaysia and transfers it to Mr C's account in London. He then orders expensive diamonds for Miss D, an Australian, from jeweller E in London. He then orders and obtains the jewellery and gets Mr C to pay E.
The principal offender may be Mr A but the person who receives and launders the money is Mr C. But in order to prove that the source of the money was in the first place indeed "dirty money", most authorities take pains to establish a predicate offence.
A predicate offence is a crime that is a component of a more serious criminal offence. Generally, the term "predicate offence" is used in reference to underlying money laundering and/or terrorist finance activity. And this practice is not new as Malaysian authorities wanted to use this prevent the DoJ from further investigations.
On April 20, the Straits Times reported that Malaysia and Abu Dhabi had reached a settlement on a dispute involving billions of dollars in debt obligations of 1MDB that is at the centre of an international money-laundering probe.
"The disputed monies in the Malaysia-Abu Dhabi row are central to legal suits brought by the US Department of Justice over the alleged misappropriation of funds from 1MDB. The Department of Justice claims that the funds siphoned from 1MDB went to fund purchases of real estate and other assets by associates of PM Najib. The settlement agreement between Malaysia and Abu Dhabi would achieve what is known in legal parlance as 'no predicate offence'", the newspaper quoted financial executives as saying. (its reports were widely reproduced in the Malaysian media)
So, if Malaysia could move to establish there was no predicate offence, shouldn't others be offered a bite of the same cherry which would prove predicate offences had been committed?
With such stringent requirements, the DoJ has to establish that the money was indeed stolen and subsequently laundered by purchasing the yacht, jewellery, art pieces etc. The authorities want to establish a water-tight case in what has been described as the largest money laundering exercise in history.
And another timely reminder: When you set foot on foreign soil or use their institutions, you play by their rules. You can't use friendship or connections to escape. The late Eric Chia of Perwaja fame found to his chagrin that rules of a foreign land – however tough or unacceptable – have to be followed to the letter.
In the case of Abdul Rahman, he claimed once names of the DoJ complainants are revealed, Malaysians would be able to see that they are linked with the agenda of Malaysia's opposition parties. Wouldn't it be also germane to ask not only Singapore but our own enforcement agencies the same question? All collect and collate data when banks or financial institutions flag bank accounts and report what appear to be nefarious activities.
Bank Negara, on its website, has a list of companies and individuals who have been convicted for money laundering. A Google search will show there have been scores of other prosecutions for similar offences which were investigated by the Malaysian Anti-Corruption Commission, the police and other enforcement agencies. These agencies, in many cases, had acted without a complaint based on information they had gathered in the course of investigations.
If we have Malaysians of such stature who passed invoices, sales receipts, bank statements and other documents from jeweller Lorraine Schwartz to the DoJ, we journalists would love to have him or her as our "deep throat". It preposterous to suggest that someone from home (the opposition is always the bogeyman) provided such succinct details and documentation or even filed a complaint.
The time has come for ministers to stop treating Malaysians as people of little intelligence. Time has also come for newspapers, its owners and editors to stop the dissemination of half-truths and misinformation. The declining readership of newspapers is sufficient to suggest the mistrust and the lack of confidence in the content. To all, as had been said before, we must make every effort to eradicate this disease called the Truth Deficiency Syndrome. If not, this country will be engulfed by it.
---
Source : Malaysiakini by R NADESWARAN.
R NADESWARAN is an award-winning veteran journalist who writes on bread and butter issues with one agenda – a better quality of life for all Malaysians irrespective of colour, creed or religion.
---