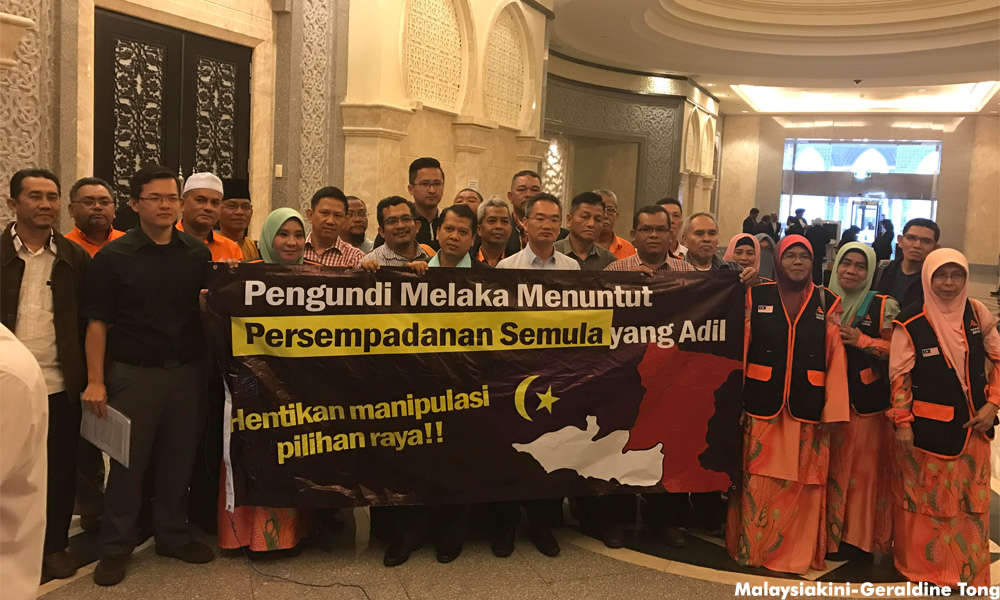 The Court of Appeal in Putrajaya today postponed both the Selangor government and the Malacca residents' cases against the Election Commission (EC) on their redelineation exercise, after concerns were raised about the expediting of the cases.
This decision came after Chief Justice Md Raus Sharif supposedly gave direct instructions to fix the hearing dates for both cases today.
The new hearing dates are July 18 for the Malacca residents' case and July 20 for the Selangor government case.
The counsel for the Selangor government and the Malacca residents, Ambiga Sreenevasan, is handling another case in the Kuala Lumpur High Court today.
"The dates for that case were fixed in January (this year)," lawyer Tommy Thomas, appearing in lieu of Ambiga, told the appellate court bench comprising Justices Umi Kalthum Abdul Majid, Idrus Harun and Hasnah Mohammed Hashim.
The trial dates for the other case would be difficult to postpone, he added, as there are foreign experts who had flown to Malaysia to be called as witnesses.
Thomas further said that during the case management on June 9, Ambiga had already informed the registrar that she has another case on June 20, but the hearing date was fixed on the same day regardless.
He pointed out that the appeal notice for the Malacca case was on May 15, just slightly over a month ago.
The plaintiff in the two cases against the EC have yet to file their submissions as they were not given enough time, Thomas said.
"To show our sincerity, Ambiga has said she can be available as early as end of this month," he said.
The Attorney-General's Chambers, represented by senior federal counsel Amarjeet Singh, said they would like to settle this case as soon as possible to allow the EC to carry out their duties, as enshrined in the federal constitution.
They, however, agreed to the new hearing dates.
Previously, electoral watchdog Bersih and Selangor Menteri Besar Mohamed Azmin Ali had questioned the sudden rush in the two cases.
Bersih had pointed out then that the hearing date on June 20 gives the lawyers less than five days to file their written submissions.
Malaysian Bar president George Varughese had also raised concerns about the chief justice's directives to expedite the legal challenges against EC.
He had noted that while the legal challenges in Selangor and Malacca, which have stalled the EC's delineation exercise, were expedited, the appeal of a failed challenge against the EC in Perak, was not.
---
Source : Malaysiakini by Geraldine Tong
---