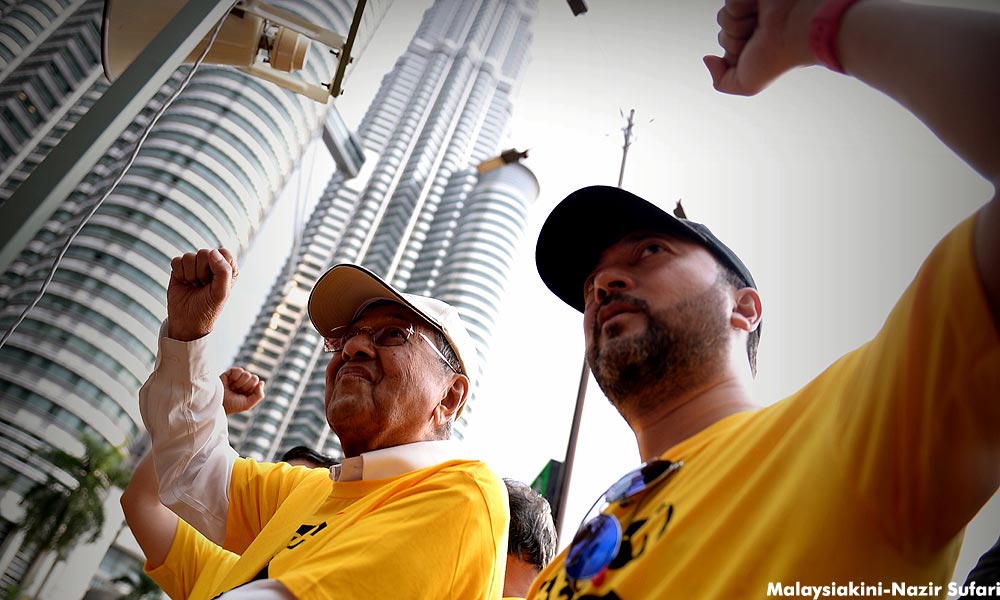 A Bersatu Youth leader today lodged a report with the Malaysian Anti-Corruption Commission against party chairperson Dr Mahathir Mohamad and his son, Bersatu deputy president Mukhriz Mahathir.
Youth wing executive council member Mohamad Taufik Abas wants the anti-graft body to probe Mahathir for abuse of power linked to multi-million ringgit government project in 2003, the New Straits Times reported.
Mohamad Taufik alleged that Mahathir, who was then prime minister and finance minister, approved a RM214.4 million tender to Opcom Sdn Bhd owned by Mukhriz to supply fibre optic cables to Telekom Malaysia Bhd.
Malaysiakini has contacted Mukhriz and Mahathir's aide for a response.
"It is obvious there is a conflict of interest here," he told reporters after lodging a report at MACC's headquarters in Putrajaya.
"Both leaders have a responsibility to explain the issue to the public and Bersatu grassroots members. Also, youngsters like us joined the party to fight for a fair and clean government.
"People like Mukhriz and (Bersatu president) Muhyiddin Yassin have been championing freedom of speech, calling for transparency, oppose corrupt practices and supposedly want a clean party. This is exactly what I'm doing," he reportedly said.
This comes after Mahathir denied all allegations of corruption during his time as prime minister, claiming that his successors Abdullah Ahmad Badawi and Najib Abdul Razak checked if he had stolen money but found nothing.
Mahathir also said that he did everything by the book, even though some decisions were unpopular.
---
Source : Malaysiakini
---