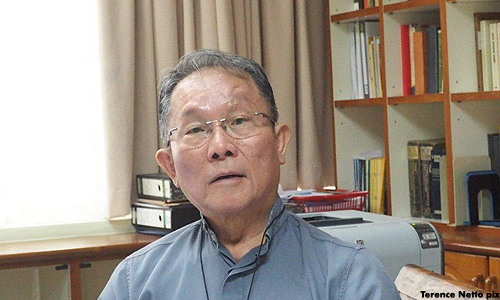 Catholic bishop Paul Tan Chee Ing urged the Muslim NGO that called for a ban on evangelical Christianity to do research on the reasons on their alleged claim that Muslims in droves are converting to Christianity.
The Centre of Human Rights Research and Advocacy (Centhra) asserts that if this trend continues, it would be a threat to national security.
"Calling for a ban on evangelical Christianity would not be the solution to this issue," argued Bishop Paul.
"Centhra purports to be a body interested in research. Why not research the causes for the alleged conversions?" he asked.
"Researching the subject would shed light on it and the effect of that would more certainly be an emphasis on education rather than a resort to proscription," the bishop told Malaysiakini when contacted.
Tan urged Centhra to take a leaf out of the book of those groups that organised a public forum on the spiritual benefits of fasting to which representatives of various faiths were invited for a discourse in Klang earlier this week.
At the forum, Muslims, Buddhists, Christians, Hindu and other community representatives aired what their religions taught them about fasting and its spiritual benefits.
"This kind of educational discourse is the more constructive way to handle contentious issues of faith," he said.
"The other way, which is to ban and proscribe, is the way of fear. It would lead to things going underground," he added.
Bishop Paul quoted poet William Blake's lines – "In every ban, in every cry, the mind-forged manacles I hear" – in support of his argument against Centhra's call.
The prelate said banning evangelical Christianity as a way to avert alleged Muslim apostasy would be a resort to a "man-forged manacle".
"Research leading to comprehension of the situation is the more constructive avenue to preserve national security with respect to Muslim apostasy, not a banning of evangelical Christianity which is certain to become more fervent if it is proscribed,"  argued the bishop.
---
Source : Malaysiakini by Terence Netto
---