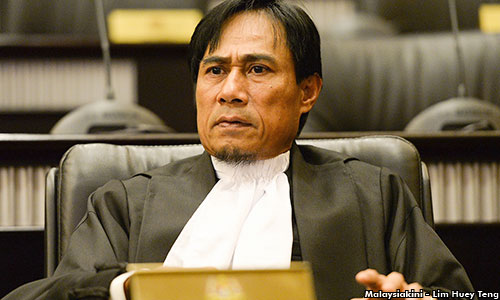 High Court Judge Kamaludin Said today recused himself from presiding over the Sidang Injil Borneo (SIB) church's application to use the word "Allah" because he once served as senior federal counsel in a similar case.
Justice Kamaludin said he had previously served as senior federal counsel on a case involving the Titular Roman Catholic Archbishop of Kuala Lumpur against the Home Ministry, Utusan Malaysia reported.
The case involved the Home Ministry's closure of Catholic newspaper The Herald for using the word "Allah" in its publication.
The current case involving SIB stems from the church's Sabah branch president Jerry Dusing's application 10 years ago to use the word "Allah" in SIB's publications.
Case management is set to be held on July 6.
SIB and Dusing on Dec 10, 2007 filed an application against the Home Ministry to challenge the Customs Department's seizure of books imported from Surabaya, Indonesia via the Sepang Low-Cost Carrier Terminal on Aug 15, 2007.
The books were seized in accordance with a ministerial directive barring the use of the words "Allah", "Kaabah", "Solat" and "Baitullah" in non-Muslim publications.
The books were returned to the church on January 25, 2008.
---
Source : Malaysiakini
---