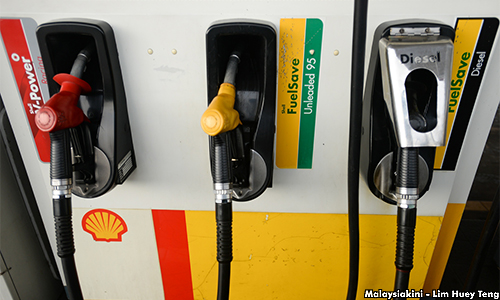 The government, in planning a new fuel price formula, has been criticised for aiding petrol station operators to ride over uncertain market prices, allegedly at the expense of consumers.
PKR Terengganu's Bandar assemblyperson Azan Ismail criticised Domestic Trade, Cooperatives and Consumerism Minister Hamzah Zainuddin's call for sympathy for the retailers, asking about sympathy for the people who suffer rising fuel prices.
"The government asks for sympathy for the petrol station operators who face losses when the price goes down unexpectedly.
"But does the government truly cares about the problems faced by the people now?
"I would like to remind the government the people have previously been fooled over the way they had set the price of fuel.
"In my view, this is just a tactic to protect the interests of the suppliers and not the people," he said in a statement today.
He asked while the government asks for sympathy for the retailers at a time when prices are falling, where was the sympathy for the consumers when fuel prices rise.
"It is quite hilarious, because the people are expected to sympathise with the sellers … but when the price goes up, no one would sympathise with the consumers."
Since abolishing subsidies for petrol and diesel, the government's fixed weekly pricing had been criticised for profiting from the price differential.
Pandan MP Rafizi Ramli had said the extra that consumers had to pay above actual market price could be seen as a form of "hidden tax" that benefitted the government's coffers.
Fuel prices saw a fourth consecutive week of decline, bringing prices to a new low since the implementation of the weekly fuel price system on March 30, worsened by the weak ringgit.
In contrast, pump prices in April rose three weeks consecutively, bringing RON95 to RM2.27 per litre and RON97 to RM2.54 per litre.
Hamzah last Saturday announced a new formula for fixing retail prices of fuels will be unveiled this week to stabilise the market price, purportedly in the interest of all parties
The minister said fluctuating prices made petrol station operators "feel they are the victims".
---
Source : Malaysiakini
---