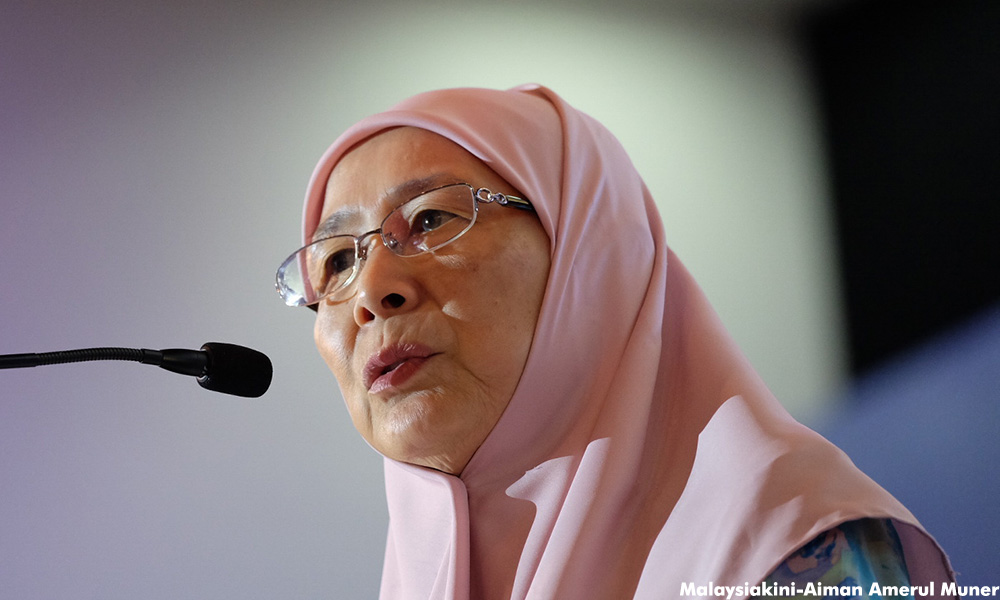 With jailed former opposition leader Anwar Ibrahim out of the race to be Pakatan Harapan's prime ministerial candidate, questions continue to be raised over his possible replacement.
PKR president Dr Wan Azizah Wan Ismail, however, insisted that the coalition's focus should now be directed towards winning the 14th general election.
"We must win first before talking about the prime minister," she told a press conference at the party's headquarters today.
"Anyone can be the prime minister. Even you (the reporter) can be the prime minister," she quipped in response to repeated questions over Harapan's discussions over its prime minister candidate.
Also present was Parti Amanah Negara information chief Khalid Samad, who pointed out that Anwar had similarly intended for the coalition to focus on capturing Putrajaya.
"I think the main reason Anwar announced that he will not offer himself as the prime minister candidate is so that this discussion (of who will be Pakatan Harapan's prime ministerial candidate) does not need to be done now," he stressed.
A local NGO, however, has rebutted the Harapan leaders' call to defer discussions for the prime minister's candidate until after GE14.
Kuasa chief executive officer Praba Ganesan said this is to avoid the voters from feeling cheated or casting their votes blindly.
"The people must know who is the prime minister's candidate for Harapan. Otherwise, the people will be voting blindly…," he said during a press conference today.
"It is unfair if the coalition has made their choice but refused to tell the people.
"Do you want to only announce it at the last minute as a surprise?" he questioned.
Parti Pribumi Bersatu Malaysia's (Bersatu) entry into Harapan has sparked speculations that former premier Dr Mahathir Mohamad would once again return to the post he held for more than two decades.
In an interview with Channel News Asia, Mahathir stressed that he has no interest in assuming the post again but would consider coming back if offered to do so and Harapan could not agree to any other candidate.
---
Source : Malaysiakini by Alyaa Alhadjri
---