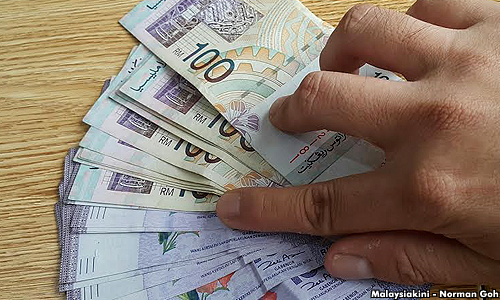 Zamri, 29, is accustomed to saying no to social invitations. It is not that he does not want to spend time with friends and family – he just doesn't have a choice.
Every day after finishing up at his nine-to-five job as a marketing executive, Zamri (not his real name) flips burgers at his own stall he set up two years ago.
Zamri is one of many Malaysians who are taking up extra work, mostly to make ends meet or to supplement salaries that have remained stagnant.
Graphic designer Hafiz Ahmad (not his real name), 32, says he works nights so he can save for rainy days.
"My salary may be enough to cover my basic needs but for savings purposes, it is not enough. I need savings so that I have enough money to get married and to buy a car and a house.
"My current salary is only enough to pay the monthly instalments for a car, ad in doing so, I won't have money to spare for savings," Hafiz said.
His basic expenditure includes paying rent, insurance premium, electric and water bills as well as Astro and Internet bills. He also sets aside money for his mother, the monthly instalment for his motorcycle and petrol cost.
"Altogether these expenses come up to RM1,800," he pointed out. "I cannot spend more than that."
Because of this, Hafiz has been spending his nights managing a drinks business, which he shares with two others. They share the tasks from preparation of the drinks to delivery and selling the drinks at a stall.
Now, at the end of the month, Hafiz has more money in his bank account, but it has come at a cost of his rest and leisure time.
"But being tired is not a hindrance for people nowadays if they want to live in comfort," he said.
Embarrassed to be forced to take up a second job
Hafiz hopes to continue with this venture until he truly succeeds in it. For the time being, he needs his day job as security, should anything happen to his business.
"My target is to produce up to 2,000 bottles per day and hire our own workers and later set up our own factory or a more comfortable place of production.
"When all that are established, I will quit from my job to manage the business."
Both Zamri and Hafiz declined to have their real names or their pictures published as they are embarrassed to have been forced to take up a second job.
"Although my close friends know about my second job, I am quite embarrassed to let my high school and university friends know that the salary from my day job is somehow not enough," Hafiz said, sheepishly.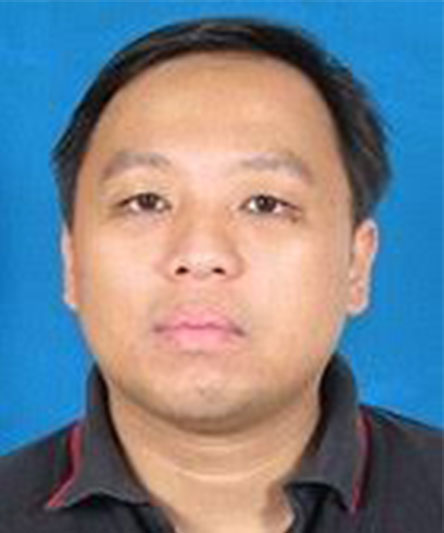 Like Hafiz, IT consultant Steve Low's main reason for getting a second job is to make extra money.
The salary from Low's (photo) day job is used to pay off his study and housing loans, and with his second job as a driver with Grab and Uber, he will be making his last National Higher Education Fund (PTPTN) instalment by the end of the year.
Married with a child, Low opted to drive for the ride-hailing services due to the flexibility. Working in his spare time, he clocks in between 20 and 30 hours a week.
Low does not stop there. On top of driving, the IT graduate also does freelance IT jobs. To do this, the 36-year-old has had to give up the time he used to spend on his hobbies.
While the extra work has paid off, he does not foresee doing it for long – at least not driving for ride-hailing services, for which he said the incentives have diminished over the years.
Higher salaries, but higher expenses too
Although those who take up additional jobs claim their salaries have stagnated, data from the Department of Statistics (DoS) show that the the median monthly salaries and wages of paid employees in Malaysia actually increased by 6.2 percent from 2015 to 2016.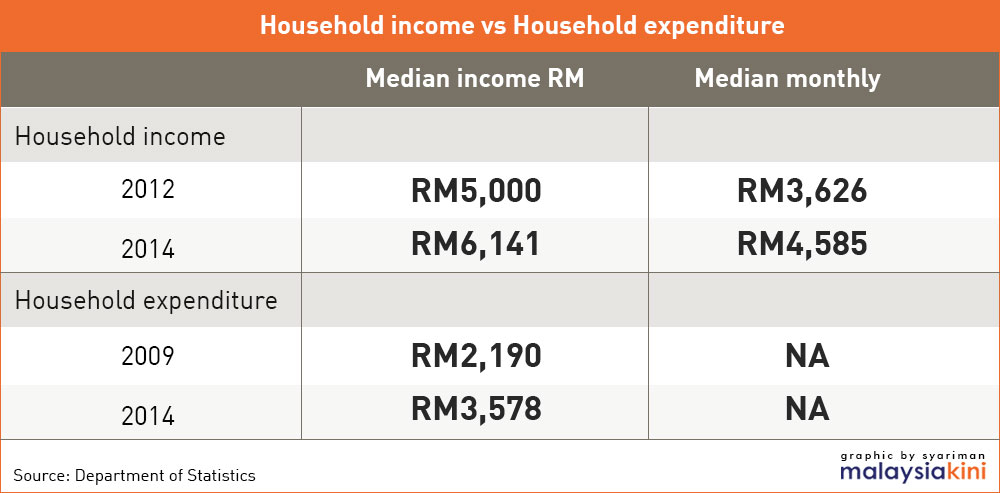 A DoS survey also showed that the mean monthly household income in Malaysia had increased from RM5,000 to RM6,141 between 2012 and 2014.
However, the mean monthly household expenditure also increased, from RM2,190 in 2009 to RM3,578 in 2014. In other words, the increase in monthly household income is not keeping up with monthly household expenditure.
Financial planning expert Christopher Chiu, who has more than 20 years of experience in this field, said that this gap between income and expenditure is serious.
"They (people working more than one job) are probably trying to make up that difference. The wages may not have kept up with the cost of living," Chiu said.
He said the bottom 40 percent income earners are the ones most vulnerable to inflation and will be the group more likely to take on more than one job to make ends meet. This signifies a structural problem in the economy, he said.
"If you look at the figures, income inequality has actually reduced over the past 30 years. The share of income for the bottom 40 has actually been increasing, compared with that of the other income groups.
"But that seems to be the opposite of experience, where you have many people looking for extra jobs.
"What I suspect is that there's a mismatch of skills on a macro level and probably things that are out of the individual's control, such as healthcare, education and so on.
"Somewhere along the line, some things aren't right, (but) we don't have enough data to understand what is happening," Chiu added.
Malaysian household debt is also quite high, he said, so people might be working on more than one job for extra income to pay off their debts or to have some savings on top of their monthly expenses.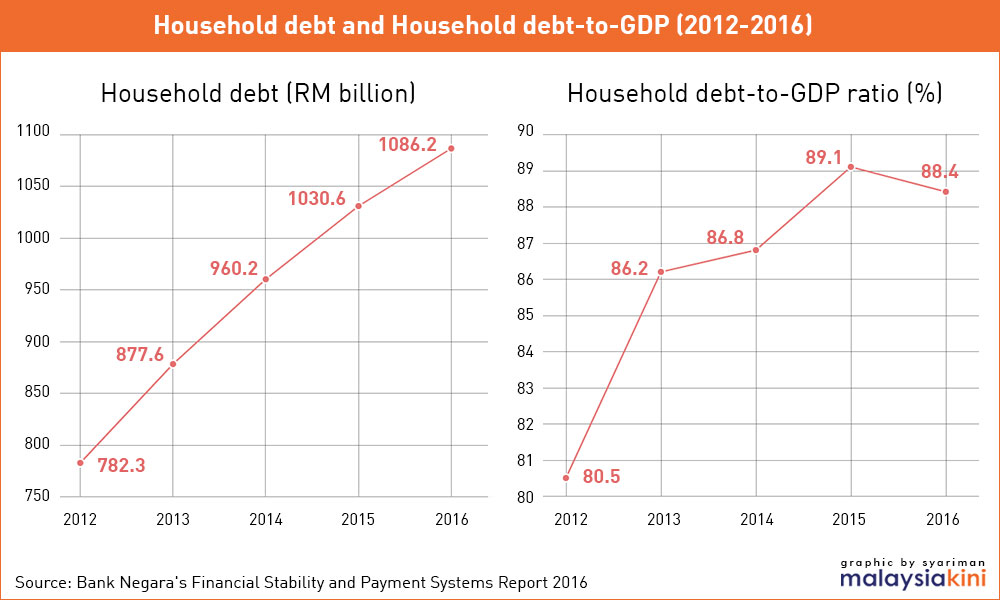 Bank Negara Malaysia's 2016 Financial Stability and Payment Systems Report shows Malaysia's household debt-to-gross domestic product (GDP) ratio to be 88.4 percent at the end of 2016.
Household debt has increased significantly, from RM782.3 billion in 2012 to RM1.09 trillion in 2016, the report states.
However, it noted that the 2016 figure is a decrease from the previous year's 89.1 percent.
"Other than home purchases for own occupation, households have generally scaled back other borrowings, in line with loan affordability," the Bank Negara report states.
Vicious cycle
To alleviate this, Chiu said, the government could implement policies to ease the people's financial burdens, such as providing a more structured universal healthcare service, free education up to tertiary level, better mass transit system, affordable housing and a basic pension scheme for private workers outside of the Employees' Provident Fund (EPF).
These ventures, he said, could be partly funded by increasing taxes of those in the higher income brackets.
While the government has rolled out various policies to target the bottom 40 percent, recent announcements suggest that it also encourages Malaysians to take up more than one job.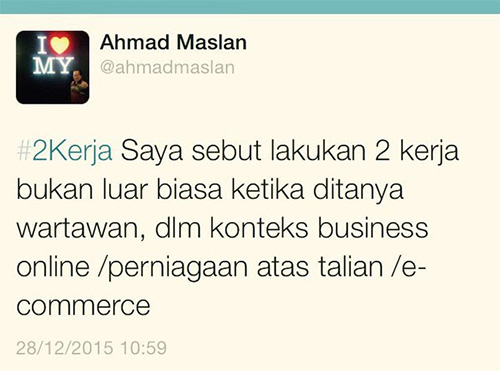 Then deputy finance minister Ahmad Maslan had been tweeting about #2kerja (two jobs), while Prime Minister Najib Abdul Razak's budget speech last year said ride-hailing services offer an opportunity for Malaysians to supplement their income.
But Chiu believes such an approach is unsustainable in the long run.
"People should have enough of a living wage to live on from one job. It should not be a multiple job thing, unless you are exploring a different career," he said.
Working on more than one job, Chiu said, would also come at great sacrifice to those with families, as they would be left with no time for their children.
"(It will have) very negative effects both for child development as well as economic effects for children, because if they are not watched, mentored and coached, they may not become economically useful in the future.
"It's a vicious cycle," he said.
Work-life balance
Work-life balance is also ironically why some have opted to take on second jobs.
Assistant architect, Malik Yasin, 39, decided to become a GrabCar driver to "test the waters" to see if he could do it full time to allow himself some flexibility in order to be a more attentive father.
The father of two normally sees himself working into the night and with his wife not able to drive, Malik struggles to do the basics, including picking up his children from school and daycare.
While still keeping his job, Malik, who has a diploma in architecture, drives during the weekends and is not confident enough to quit his day job.
"I guess I'm used to receiving my salary every month. But friends who have done hail-driving full-time assured me that it's doable. Some even say that they are earning more than when they had a stable job."
And the other assurance he has is that is wife has a stable job.
"My wife earns more than me. So I should sacrifice my career by being self-employed," he said, adding that he may consider starting a business while driving with GrabCar as well.
Human resources manager Nadia Hong, 24, moonlights as a dance instructor to children aged between four and 10 years old, about twice a week.
Her stint as a dance instructor, she said, is more out of passion than anything else. She pointed out that what she earns from teaching dance barely supplements her monthly income.
"I can sustain myself on my main income because honestly, my part-time job doesn't pay much.
"I guess you could say I stick with it out of interest and at the end of the day, the experience makes me a better dancer and teacher," Hong, who has a background in law, said.
However, she notes that her dance lessons do significantly affect her daily schedule because it involves many hours of preparation.
Skills upgrade
Ramon Navaratnam, an economist and former high-ranking civil servant, believes that taking on a second job is only sustainable if one is acquiring new skills in the second venture.
"You work two jobs because the first job is not giving enough income and that is because you are not skilled or trained.
"So, acquire skills. Go for night classes, do courses, including technical courses," Ramon (photo) said, pointing out that there were even various online courses available.
He said the Malaysian workforce is relatively lower-skilled and wages would reflect this.
According to the Malaysian Productivity Blueprint for the 11th Malaysian Plan (11MP), the proportion of skilled labour in the country has been decreasing, from 27.6 percent of the total employment in 2010 to 25.5 percent of the total employment in 2015.
This, the report said, can be attributed to the growth of foreign labour, which grew at a rate of 4.8 percent each year from 2010 to 2015.
A 2017 study published by the Organisation for Economic Cooperation and Development (OECD) states that influx of low-skilled migrant workers increased their share of total employment from 9.5 percent to 15 percent.
The study also noted that there is a serious mismatch between higher education graduate skills and labour force skill demands, which is contributing to the underemployment of graduates in semi-skilled professions.
In the face of retrenchment
The upgrading of skills, however, is not an option for all.
Tan Keh Win, 34, had to take on anything he could find after he was suddenly let go from his job in December last year, slashing his household income by RM4,000.
Tan and his wife had also just welcomed their first-born, a month before, and were paying the mortgage for their new house.
"We bought our current place after taking into consideration our combined income (at that time). Now the monthly payments have become painful," Tan (photo), who has a degree in computer science, said.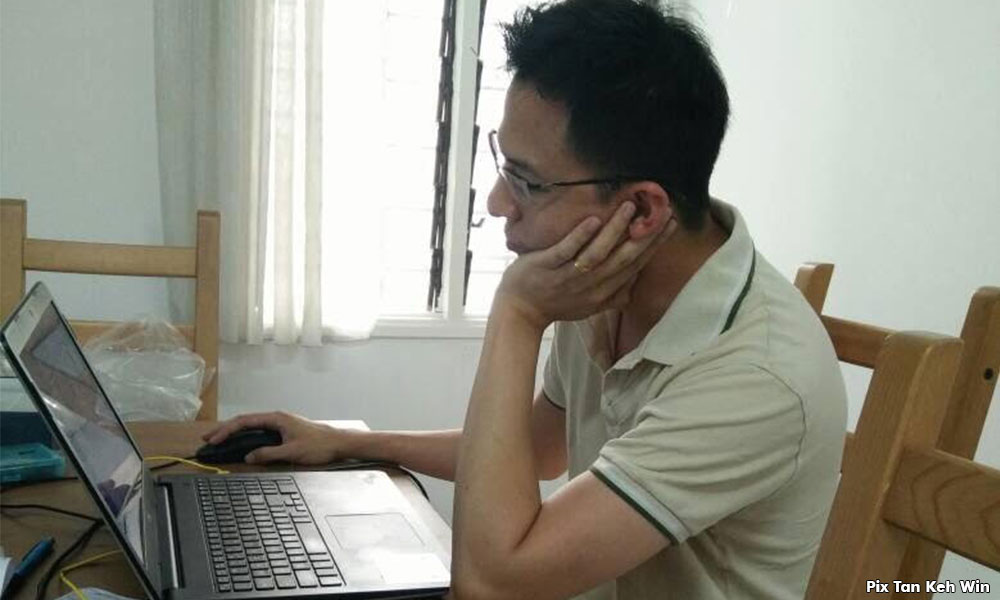 To generate an income, Tan does freelance software development and part-time IT work for two different companies. He also maintains the network and computer systems for a client's office.
"My wife and I both work, but I was drawing a higher salary. Now that's changed.
"For the past two months, I have made barely RM2,000 each month. (It is) hard, these days, to find work that pays enough," he said.
Tan is fortunate that he paid off his car loan about two years ago, he said, but he pointed out that he no longer has any savings.
His savings were used up right after he was let go from his job, to pay bills and buy supplies for the baby as he tried to look for a new source of income.
"I just managed to reach a tenuous equilibrium now," he said.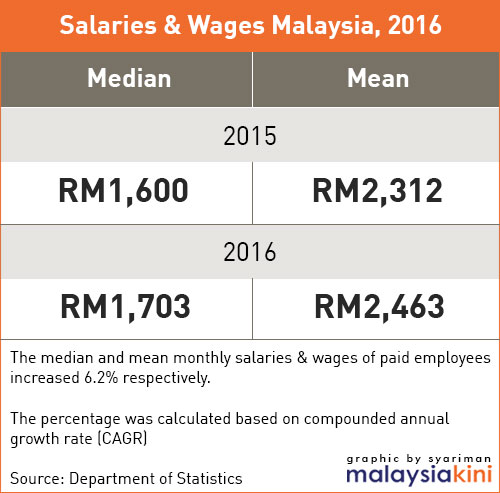 Higher costs
Tan and his wife have also given up many luxuries they used to enjoy, such as going on weekly dates and visiting cafes, he said.
He has also had to stop or scale down some of his hobbies, such as playing board games – and he even sold off some of the board games he owned.
He said the bulk of their expenses go to the home and the baby, with food supplies also taking a large chunk.
"Food costs, especially, seem to have risen quite a bit in the past year or two," Tan lamented.
According to official statistics, goods and services were 3.9 percent more expensive in May, compared with the same month last year.
Inflation was 4.1 percent in April and 5.1 percent in March. This was the highest it has been since November 2008, where it reached 5.7 percent.
Tan is not alone in his struggle.
Last year alone, the Human Resources Ministry recorded 37,699 retrenchments. Those who survived the chopping block were forced to take on contract positions with less security of tenure.
The Malaysian Employers Federation (MEF) is also expecting more to lose their jobs this year due to poor economic conditions, spelling rough times ahead for Malaysians.