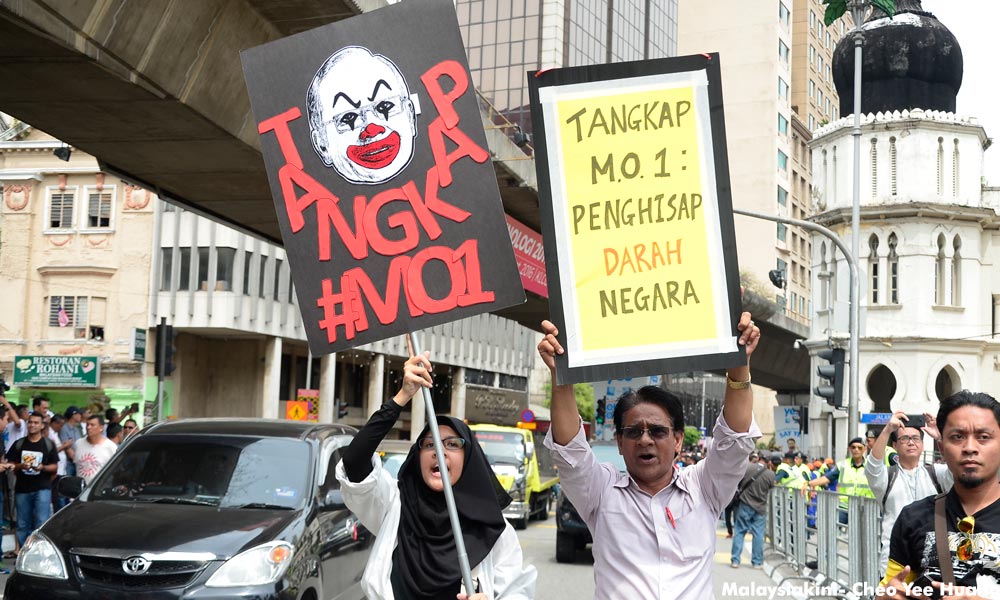 Pakatan Harapan's plan to hold an anti-kleptocracy rally in September following the US Department of Justice's (DOJ) third 1MDB-linked civil forfeiture suit is yet another in a long list of rallies protesting the 1MDB controversy.
But since the 36-hour Bersih 4 rally in 2015, which swelled up to more than 100,000 participants at its peak, no other rally in Malaysia has been able to reach anywhere near those numbers.
With the recent spate of rather lacklustre numbers at rallies, which appear to be aggravated by the fragmentation of the opposition, the question now is whether this forthcoming rally planned by Pakatan Harapan falls into the same pattern?
Penang Institute fellow Wong Chin Huat said that nowadays, the standard attendance for a successful rally is 100,000.
"Let's say (the rally) gets somewhere like 100,000 people. It would be seen as the status quo, and that they have got the standard crowd coming out," Wong told Malaysiakini.
If the rally were to have an attendance of around 30,000, he said, then that would be bad, but he believes the opposition would be able to deliver at least 100,000.
"I doubt that the opposition would not be able to at least deliver 100,000," he said.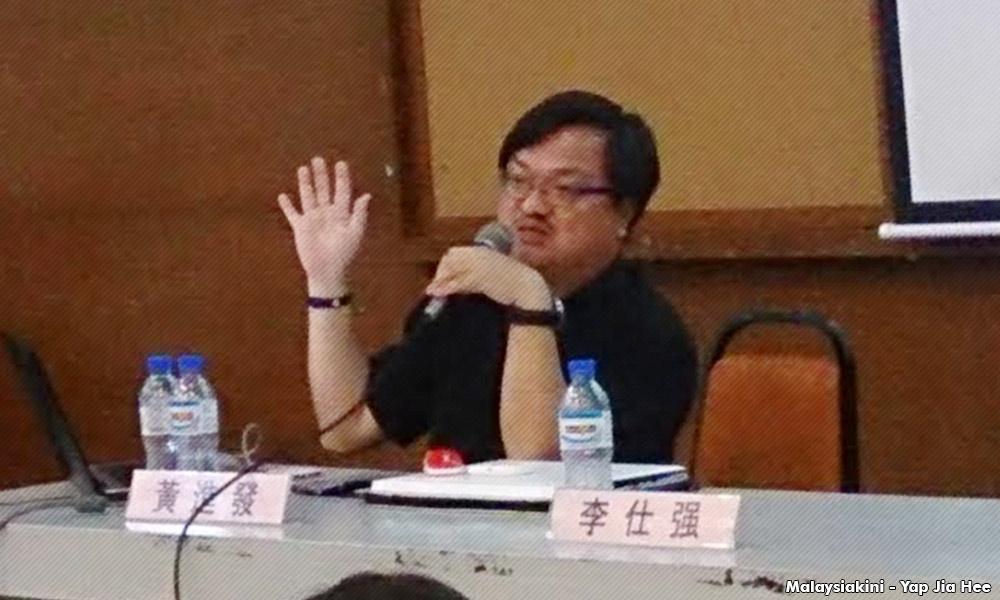 If the opposition can deliver a good turnout, Wong (photo) added, BN might likely hold off on calling for the 14th general election (GE14).
He pointed out that there is a precedent of BN performing badly in elections shortly after successful rallies.
"The 12th general election (GE12) was called (about) three months after the first Bersih rally and it was disastrous for BN," he said.
However, Wong warned that if Pakatan Harapan failed to mobilise a large enough number for this rally, it would indicate to the ruling government that the opposition's machinery is rusty and they cannot even appeal to the public anymore.
It might even be possible to convince BN to hold GE14 earlier, he added.
However, Universiti Sains Malaysia (USM) professor Ahmad Atory believes that if Pakatan Harapan is able to fully utilise the 1MDB issue to its advantage, the coalition would be able to win the public's support and subsequently, Putrajaya as well.
"People's patience has a limit," Ahmad said.
'Rally might backfire'
On the other hand, the National Professor's Council political cluster chief Mohamed Mustafa Ishak took a pessimistic view of the rally's potential efficacy.
Speaking to Malaysiakini, he said if the opposition intended the rally to be a show of their strength, it might backfire as the people we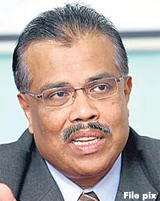 re getting fed up with rallies.
"People are already getting used to too many rallies and many of the rallies ended up with a lot of issues; clashes and closure of shops and so on," Mustafa (photo) said.
He also pointed out that Harapan cannot guarantee that the rally will remain peaceful and that people might end up blaming Harapan if anything untoward were to happen.
"Or if they do not get the permit and go ahead with the rally, people might say they are breaking the law," he said.
There might even be counter-rallies, over which they would have no control, Mustafa said.
Besides this, he pointed out that the opposition must also have to muster up the numbers for the rally, and have representation and diversity in the participants.
After Bersih 4, which saw massive numbers attending the overnight rally, the lack of a Malay crowd at the rally did not go unnoticed, with Umno propaganda sites labelling the rally as being Chinese-dominated.
Post-Bersih 4 also saw the rise of the red shirts, led by Sungai Besar Umno division leader Jamal Md Yunos, who played a prominent role in a counter-rally on Sept 16 the same year, supposedly meant to uphold Malay dignity.
Thus, Mustafa said, the ruling government could again benefit if the rally lacked diversity.
Merdeka Center director Ibrahim Suffian also similarly warned that if the opposition cannot turn out a broad-based, representative crowd, then it will fall prey to the usual charge of only being able to appeal to the urban crowd.
Bersatu litmus test
On mobilising more diversity, this anti-kleptocracy rally would be a litmus test for the new kid on the block, Parti Pribumi Bersatu Malaysia (Bersatu), which has projected itself as a conduit for Malay support for the opposition.
When PAS broke away from the opposition coalition and did not show up for Bersih 4, the mega-rally seemingly suffered, with low numbers of Malay representation. For the planned September rally, PAS has indicated that it would not follow those with an alleged "agenda".
Thus, now that Bersatu has settled into the coalition, the burden to shore up the numbers of Malay crowd in the rally would appear to fall on it – but is the party up to the task?
Ahmad believes that Bersatu, along with PAS splinter party Amanah, would succeed at this task.
"I can say that 30 to 40 percent of Umno members defected (to Bersatu) and also 40 percent of PAS members also defected to form Amanah.
"I think they will be able to get together to gather more numbers than what they targeted," Ahmad predicts.
Wong, on the other hand, said that Bersatu might be able to mobilise the Malay population in its strongholds of Kedah and Johor, but other than that, it would be up to PKR in Selangor to appeal to the Malay crowd.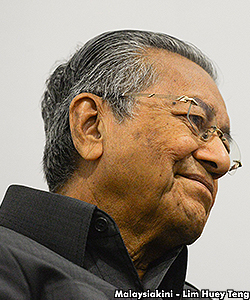 He also said that former prime minister and current Bersatu chairperson Dr Mahathir Mohamad (photo), who is now more or less an icon of the opposition, would appeal to people who are not hardcore party voters.
"For fence sitters, Mahathir and the opposition acting together would give them the appeal," he said.
Wong also said PAS' influence on Malay representation in rallies could have been overstated, as he pointed out that during the anti-TPPA (Trans-Pacific Partnership Agreement) rally, PAS' turnout was very low.
Malaysiakini had previously estimated PAS' turnout at the anti-TPPA rally to be around 5,000.
However, Mustafa said that PAS has very committed and loyal supporters.
He was the least convinced of Bersatu's capabilities to appeal to the general Malay population, saying that Bersatu and even Amanah still mainly appealed only to the elite Malays.
"They only managed to engage with the middle-class and normally they are the ones who don't come out (to rallies).
"It is those who are in the lower-middle class, rural and working classes who are coming for rallies," Mustafa said.
On Mahathir's influence, Mustafa was also doubtful of its impact, pointing out that the 91-year-old had also attended Bersih 5 and still did not inspire high turnout.
Malaysiakini put the Bersih 5 rally attendance at around 40,000, though Bersih claims that their numbers reached more than 100,000.
'Cheap advertising'
As Mustafa earlier indicated, the low numbers attending rallies have also been attributed to the public experiencing political fatigue, with many rueing the point of holding rallies if there are no discernible changes being effected.
But Wong argued that rallies are a way to involve the ordinary citizen in the political process.
"(A rally) is a cheap form of advertisement.
"You want ordinary people to take part, you have got to give them something to do," he explained.
Meanwhile, Ahmad said a rally is just one of the many stages of acting against the ruling government.
He also believes that there are still many in the country who do not understand the complicated 1MDB issue, so this gives a chance for the opposition to have a closer form of communication with the public on the issue.
However, as the opposition gears up in preparation for the anti-kleptocracy rally, it continues to have unresolved internal issues; chiefly, it has yet to decide on a leadership structure for Pakatan Harapan.
Resolving internal issues a priority
As such, Ibrahim questioned the wisdom of holding a rally now.
"Not sure what good a rally does right now, given that the opposition can't even decide on a proper structure for itself.
"In my view, the people are mostly already aware of the issues and what's holding many undecided voters uncommitted is that they remain doubtful of the opposition's ability to provide leadership and policy proposals to overcome the problems on which they want to hold the rally," he said.
Mustafa shared a similar opinion, saying that it is more important for Harapan to resolve its issues, such as the leadership and policy matters, if it was serious about being the alternative government.
"If you want to be an alternative government, you must behave as such, with a shadow cabinet and alternative policies and so on.
"To me, this is more crucial, rather than just wasting your time and having the rally, just to reiterate all the issues that have been raised, that people already know about," he said.
The anti-kleptocracy rally geared for September is a response to the latest court filing on the 1MDB scandal by the DOJ, which has alleged that billions of ringgit originating from the sovereign fund had been laundered in their country.
The government maintains that no wrongdoing has been found in relation to 1MDB.
---
Source : Malaysiakini by Geraldine Tong
---