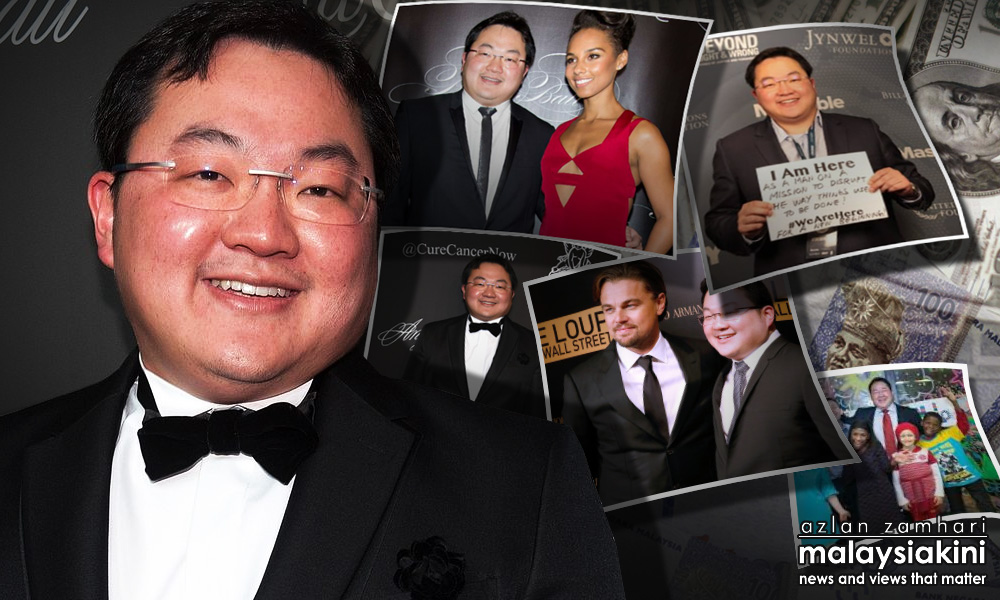 Businessman Low Taek Jho had reportedly given at least US$200 million to charities linked to international celebrities.
The New York Post in its report noted that while celebrities Leonardo DiCaprio and Miranda Kerr had returned the art and jewellery they were gifted by Low, charities were keeping the money.
The Leonardo DiCaprio Foundation, for instance, purportedly received "millions of dollars" from Low.
Grammy award-winning singer Alicia Keys also received money from Low for the charity she co-founded, Keep A Child Alive, to fight AIDS in Africa and the We Are Here Movement.
Below is a list of charities Low purportedly donated to:
Gabrielle's Angel Foundation, a charity founded by Denise Rich, a former New Yorker who gave up her citizenship more than a decade after Bill Clinton pardoned her late former husband, Marc Rich, who was wanted in the US for tax evasion.
Wildcat foundation Panthera, created in 2014 by New York-born mercurial mineral mining billionaire Thomas Kaplan, a board member of Manhattan's prestigious 92nd Street Y. Low allegedly gave at least US$20 million to the foundation.
Electrum Group LLC. Low invested US$150 million in Electrum (also one of Kaplan's companies) and joined its board for a time.
University of Texas MD Anderson Cancer Center. Low gave US$50 million to the centre after having a "cancer scare".The cancer centre, however, told the New York Post they received only "a portion" of the $50 million.
The United Nations Foundation. Low purportedly gave US$25 million to the foundation but The New York Post said it was told that by the foundation that it received only US$3 million.
National Geographic Pristine Seas Fund, which still lists Low's Jynwel foundation as a partner on its home page. National Geographic was also one of the producers of DiCaprio's documentary, Before the Flood.
The Motion Picture Television Fund. Low pledged at least US$20,000 a year to this fund.
Low also donated to Children's National Hospital, Earth To Paris, Global Daily, IRIN News, and Mashable Social Good Summit.
The latest filing by the US Department of Justice had placed the allegedly misappropriated figure from 1MDB at US$4.5 billion and the DOJ is now seeking to seize US$1.7 billion in assets purportedly acquired from the funds.
The DOJ claimed that Low spent at least US$9.9 million on jewellery for Kerr as well as his mother.
In its 251-page filing on June 15, the DOJ claimed that between February and November 2014, Low purchased four sets of precious stones from top jewellery designer Lorraine Schwartz as gifts for Kerr.
The first was an 11.72-carat heart-shaped diamond worth US$1.29 million that Low gave Kerr as a Valentine's Day gift.
Low is said to have bought this using funds diverted from 1MDB from the proceeds of a bond offering in 2013.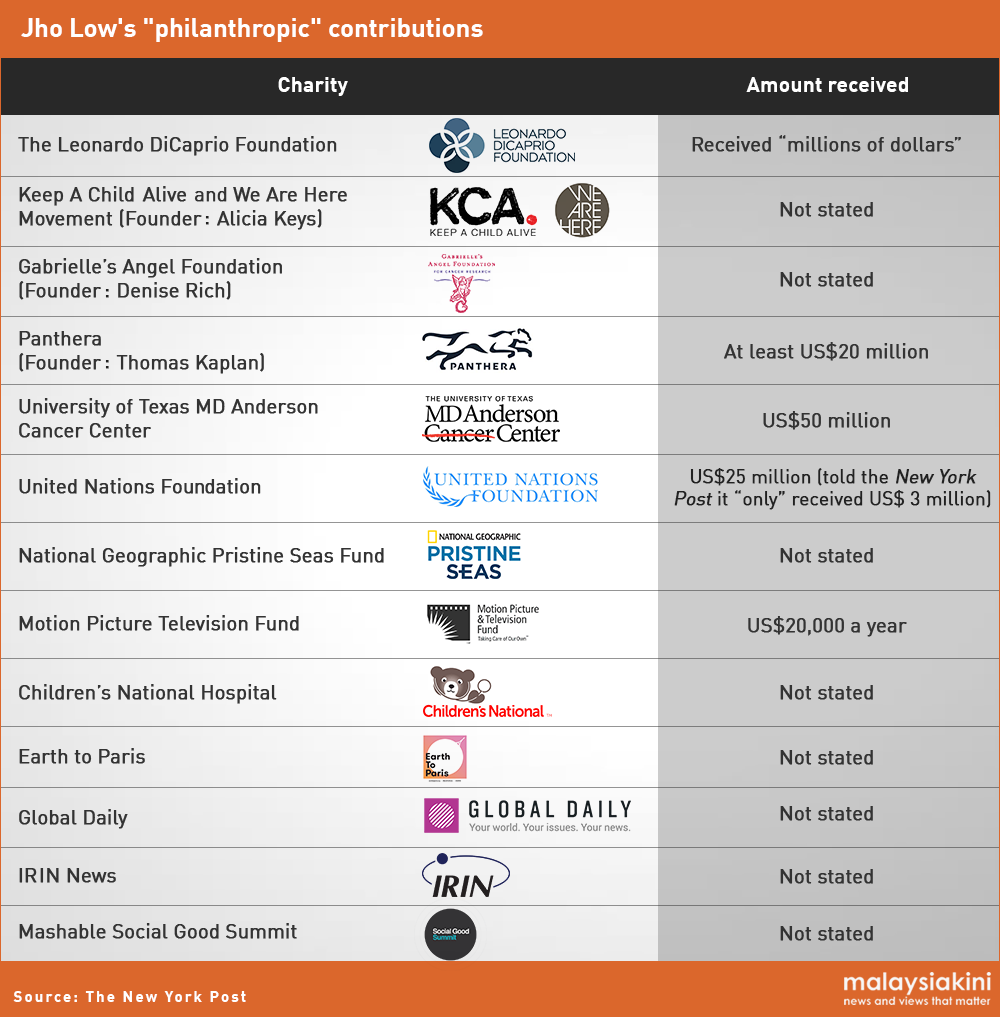 ---
Source : Malaysiakini
---