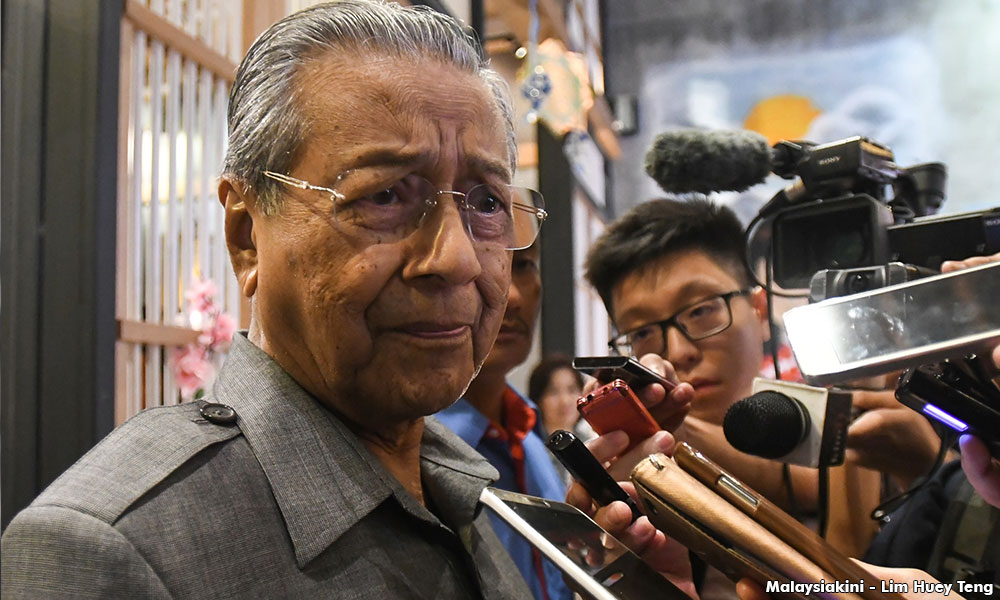 Former prime minister Dr Mahathir Mohamad may be warming to the idea of PKR de facto leader Anwar Ibrahim possibly becoming prime minister in future, but he is adamant that he did not make a mistake when he thwarted the latter's first bid in 1998.
Mahathir said in an interview with UK daily The Guardian that he no longer objected to Anwar becoming the next prime minister, leading the newspaper to say that Mahathir had somehow admitted he made a mistake by not allowing Anwar to succeed him as prime minister.
However, Mahathir today insisted that this was not the case.
"I didn't (say that I regret not allowing Anwar to succeed me). A lot of people quoted me or spoke about me, which is not right," he told reporters in Kuala Lumpur.
Pressed further on whether it was therefore not true that he regretted not letting Anwar to succeed him as prime minister, Mahathir said he did not say anything about that.
"What is past is past. What we are interested in now, and all of us agree, is that (prime minister) Najib (Abdul Razak) must be thrown out. That's all.
"If we talk about the past, then of course, we'll have a lot of problems," he added.
Mahathir was quoted by The Guardian as saying that he would have no objection to Anwar becoming prime minister if he could obtain a pardon from the Yang di-Pertuan Agong.
Asked to clarify whether he was indeed agreeable to Anwar becoming the next prime minister of the country, Mahathir stressed that this was only possible if the opposition wins and the new prime minister would then have to work towards releasing Anwar from imprisonment.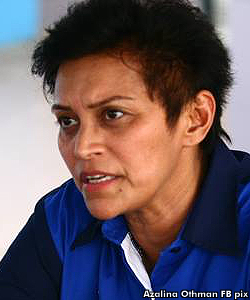 "Until then, he cannot be prime minister. No way he can become prime minister from jail because he cannot compete," he said.
On the statement by Minister in the Prime Minister's Department Azalina Said Othman (photo), who slammed him for his supposed U-turn on the matter, Mahathir stressed that no such thing had occurred.
"It's not me who U-turned. It's Najib who U-turned. As a good party that could administer the country well, it has become the dirtiest party in the world (and) one of the 10 most corrupt countries in the world.
"That is their U-turn. If they stuck to the same route that my predecessors and I took, (there is) no U-turn. It is a straight line."
Azalina, in her statement today, said Mahathir's remark that Anwar's current incarceration was "influenced by the government" made it seem as though Mahathir had forgotten that Anwar was first removed from the government during his tenure as prime minister.
Mahathir also denied that he had once said that a homosexual cannot become prime minister.
"I never said anything about that. All I said is that the person who has been convicted cannot become prime minister," he said.
Anwar is serving a five-year jail sentence for Sodomy II, a charge he continues to refute and which human rights groups claimed was politically motivated.
He was jailed in February 2015, andhe must serve a mandatory five-year ban from electoral politics upon his release.
Anwar was first jailed for corruption and sodomy in 1998, in which Mahathir was accused of masterminding the prosecution.
---
Source : Malaysiakini by Alyaa Azhar
---