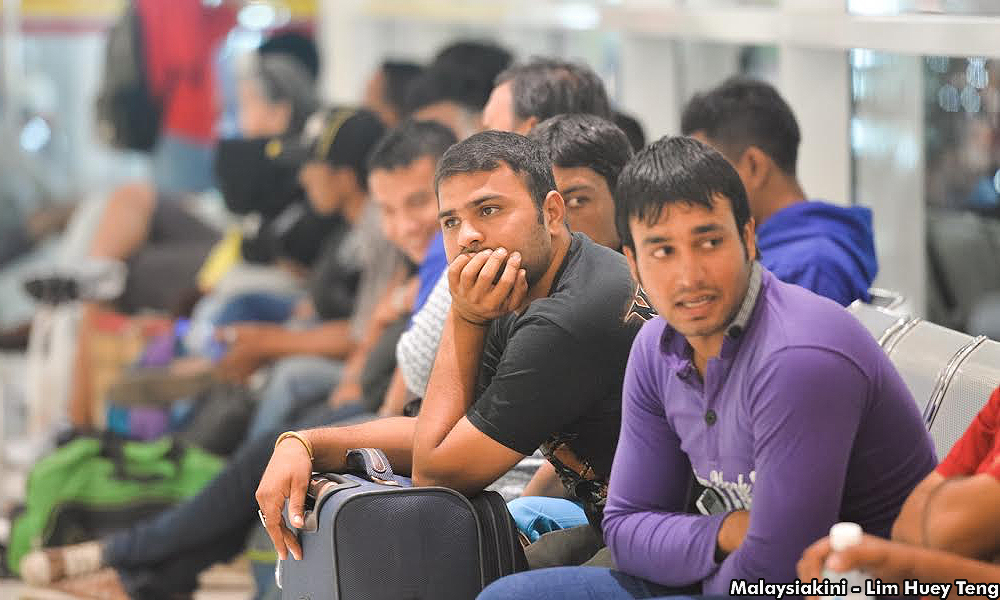 Human rights groups have called for a halt on the ongoing crackdown on undocumented migrant workers, urging the Immigration Department to instead overhaul the existing systems used to legalise workers.
The executive director of migrant rights group Tenaganita, Aegile Fernandez, called the raids "unjust".
"Sixty to 70 percent of those arrested are human trafficking victims. It is their employers who have failed to register them, and yet they (the Immigration Department) is deporting the weaker party.
"The crackdown should be on employers instead, let the workers be witnesses," Aegile told Malaysiakini yesterday.
Previously, employers were given four months to register their workers for temporary validation passes in the form of Enforcement Cards (E-cards). Both the employer and worker have to be present, in person, to apply.
The raids began once the deadline for E-card applications expired at midnight on June 30.
Human Rights Watch's Asia division deputy director Phil Robertson highlighted the idiosyncrasies of the entire operation.
"While Immigration claims that everyone had plenty of time to comply, it never acknowledges how hard it is for migrants to demand that their employers act early to deal with these requirements.
"The result of the delay by the employers (to apply for E-cards) is that the migrant workers will pay the price," Robertson said.
Similarly, Human Rights Commission of Malaysia (Suhakam) commissioner Jerald Joseph also expressed concerned on how workers had been victims "from the start".
"The workers (alone) don't have the power to legalise themselves.
"Now (with the raids), many have gone into hiding, making them even more vulnerable than before. The raids do not solve the problem," Jerald said.
According to a Malaysiakini special report, at least 100 migrant families have fled into the jungle and are currently living in harsh conditions to escape the raids.
As of July 7, 2,309 workers and 52 employers have been arrested in daily nationwide raids carried out by Immigration Department officers.
Immigration Department director-general Mustafar Ali has previously lamented that less than a quarter of the initial target of 600,000 migrant workers had registered for their E-cards, but maintained that he would not extend the deadline.
Probe lack of enthusiasm
Despite previous announcements that the E-cards were free of charge, Tenaganita's Aegile said that employers had come forward to tell her that this was not so.
"Employers have reached out to us to explain that the problem is the cost (of the E-cards).
"They had to pay RM600 per worker and the fee was non-refundable, and there was no guarantee all workers who applied would be successfully registered," Aegile explained.
The Malaysian Bar Council's Migrants, Refugees and Immigration Affairs Committee chairperson M Ramachelvam claimed the same.
"The Malaysian Employers Federation and other employer organisations have stated that the fee of RM600, as upfront fees and other restrictions and conditions, have impacted the Rehiring Programme," Ramachelvam said in a statement to Malaysiakini.
Jerald urged the Immigration Department to investigate the lack of enthusiasm for its E-card offer.
"Investigate it, and relaunch the system after studies are done," he said.
On July 6, the Immigration Department announced that it was now allowing workers without E-cards the chance to surrender themselves, upon which they would be required to pay a reduced fine of RM400 and purchase an air ticket home to aid deportation.
Surrendering themselves would exempt these workers from jail and a heavier fine, but they would be blacklisted from entering Malaysia for a maximum five years, it said.
Aegile questioned how these workers would be able to afford this option, as many have not been paid their salaries for up to four months.
"(What we need is) a systematic plan to address the structural flaws in our immigration system.
"Including enacting legalisation to recognise refugees and a comprehensive rights-based policy for the recruitment, placement and employment of migrants and refugees in Malaysia," she said in a statement issued by Tenaganita.
There are an estimated two million undocumented migrant workers in Malaysia.
---
Source : Malaysiakini by  Annabelle Lee
---