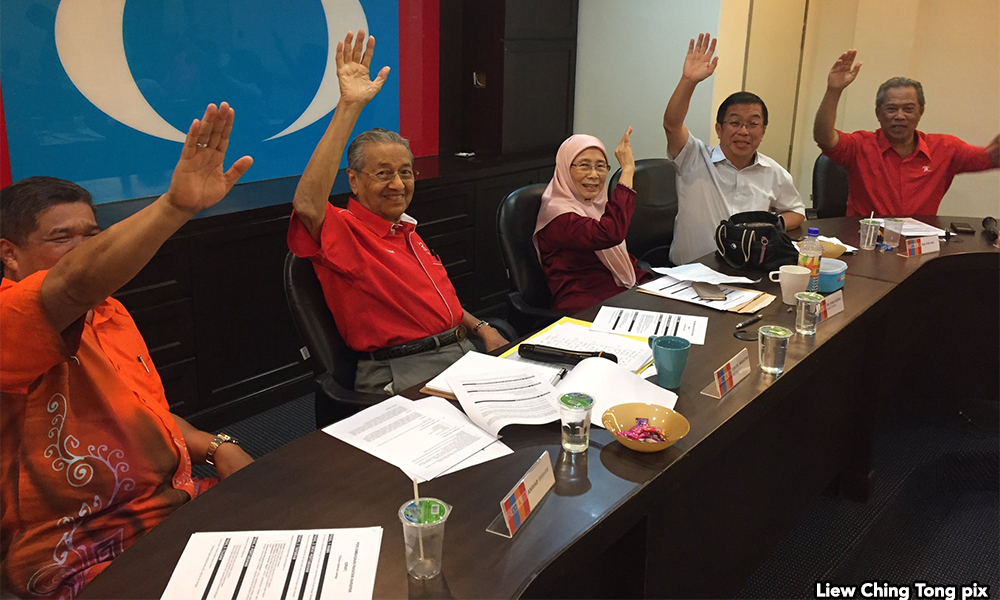 Pakatan Harapan today released its plans for the first 100 days of taking over Putrajaya.
Reading the coalition's joint statement, newly-appointed Harapan chairperson Dr Mahathir Mohamad announced that it will abolish the implementation of the Goods and Services Tax (GST), among others.
Below is the list of things it plans to do:
Stabilise the price of petrol
Focus on efforts to alleviate the rakyat's burdens
Start a thorough reform process of institution
Fight corruption to its roots
Form a Royal Commission of Inquiry (RCI) into the 1MDB scandal; and
Rehabilitate the Federal Land Development Authority (Felda)
Two-term limit for PM
Announcing this alongside its leadership line-up, Dr Mahathir said the coalition is commits to a common goal of toppling the Najib Abdul Razak administration.
The announcement was made at a press conference past midnight on Friday at PKR's headquarters in Petaling Jaya.
The partner parties DAP, PKR, Parti Amanah Negara and Parti Pribumi Bersatu Malaysia also commit to a two-term limit for anyone holding the prime minister position.
They also agree to "cancel and correct" any breach of laws by the current government, which impact the people's interest.
"This includes reinstating public funds which were lost through the 1MDB mega scandal," the parties said in a declaration read out by Mahathir.
They also agreed to work towards releasing all political prisoner and drop all charges against them, as well as reform the law and institutions to prevent abuse of power.
Harapan in its meeting tonight finalised its logo and leadership structure after months of negotiations.
PKR de facto leader Anwar Ibrahim was announced as the coalition's de facto leader while PKR president Dr Wan Azizah Wan Ismail was appointed as president.
---
Source : Malaysiakini by Alyaa Azhar
---