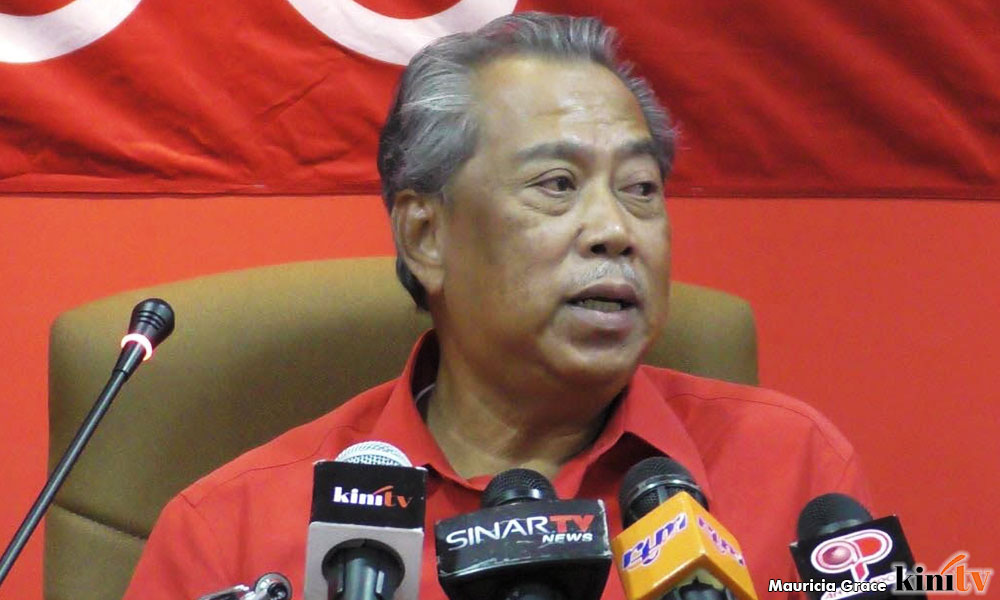 No one likes to exaggerate about the Malay "tsunami", or gelombang. If one says too much, and the wave never comes, such shrill declarations will destroy the credibility of the person.
It is like a scientist who claims that Tokyo is about to have a major earthquake. But after the Kanto earthquake in 1923, none has come.
But the earthquake will, and does, in fact come. And usually it comes in small tremors and huge earthquakes elsewhere.
In 1995, Kobe was hit with a major one. In March 2011, the earthquake that occurred north of Japan, in the middle of the ocean, unleashed a tsunami that wiped out Sendai and Iwate.
When Bersatu president Muhyiddin Yassin argued that the "Malay tsunami" will come, he has a point in five ways. One, he is referring to a nationwide "tsunami" from north to south.
It doesn't matter that BN won big at the Sarawak state election in May 2015 by 72 seats. BN's win in Sarawak is due to the strength of Parti Pesaka Bumiputera Bersatu (PBB). When the late Adenan Satem projected himself as a solid and sturdy figure – and that he was – the results naturally reflected a voting pattern that prefers honesty.
The honesty that is demanded and craved by the electorate of Sarawak after decades of abuse from "Pek Mo" or "White Hair" as they called him in Sarawak.
White Hair was, of course, the former Sarawak chief minister who had taken to strip the forest clean, which the indefatigable whistleblower website Sarawak Report showed time and again.
So, in this sense, whoever can stand for honesty will reap big from such a straight and simple honesty. May the soul of Adenan Satem be blessed.
10-year clean record
Now cross the line to the opposition. Since 2008, there have been no major abuses of power and corruption. That's almost 10 years of good governance. In between the 10 years, there have been two "tsunamis" in 2008 and 2013, both of which put the government to shame.
The then deputy prime minister, Muhyiddin Yassin, had to face off 16 by-elections, of which he won back eight while the opposition won eight, too. The score is even.
But from 2009 onwards, the victory in each by-election has become tougher and tougher. When minister Jamaluddin Jarjis died in a tragic helicopter crash in May 2015, the new "cari makan" MP's majority dropped from a high of more than 16,000 votes to a mere 8,000.
This is a general drop of 50 percent, which is a threshold that is widely seen even in Johor, between 2008 and 2013. Be it parliamentary or state seats in Johor, most of the government MPs and state assemblypersons had seen a drop in their votes between 30 percent and 35 percent.
As an MP of Pagoh in Johor, when Muhyiddin said that a "tsunami" is coming, he isn't kidding. As a former by-election director of BN, he knows Umno is collapsing from within. Divisional leaders in Umno know that the ability to be a divisional leader alone will land one a financial reward, and the reward gets bigger as one becomes an MP and state assemblyperson.
The latter used to be a strength for Prime Minister Najib Abdul Razak, as he had 1MDB at his beck and call. But the signs lately are not good. The US Department of Justice (DOJ) is cracking down on Malaysian Official 1 (MO1) and his ilk, including the wife of MO1, whom Minister in the Prime Minister's Department Abdul Rahman Dahlan himself has admited refers to the PM's wife Rosmah Mansor, since he has first averred on BBC that MO1 is none other than the PM.
'Ocean 11 team' in jam
With the DOJ cracking down on the alleged ill-gotten billions of MO1, his wife, tycoon Jho Low and gang, the whole "Ocean 11" crack team cannot get its money out from US and six other jurisdictions where the money is allegedly hidden. In other words, they are jammed.
When they want to squeeze more money from China through conglomerate Dalian Wanda Group, they are jammed again. Just two days ago, Wanda announced that it has had to sell close to 76 of its hotels to raise US$9.3 billion. This is when the asking price of Bandar Malaysia is US$20 billion.
With Wanda jammed, and China online trading giant Alibaba Group not being able to come to the rescue, they can only seek refuge in Malaysia either by printing money or taking more debt.
Admittedly, they can do both. But these actions will create an inflationary situation, too. And if the local banks shut their conscience and close their eyes, by loaning to the government, the interest rates will shoot up due to the "crowding out" effect. Little wonder RHB Bank is now offering interest rates at 4.5 percent to 5 percent to attract the savings of the people.
But when banks are willing to give 4.5 percent to 5 percent, this does not bode well for the strength of the economy. It means it will charge an additional 2 percent on those that want to borrow from them. When people are saddled with an interest rate of 7 percent at the very least, the cost of living will spike, especially when more than 80 percent of the people are surviving on debts.
So, Muhyiddin is not joking when he said a "Malay tsunami" is coming. It happened before in 1999, when Malays threw their support behind PAS, increasing the share of its parliamentary seats to a high of 23 seats, which hasn't been repeated anywhere since.
But the 1999 "Malay tsunami" is coming around again because former premier Dr Mahathir Mohamad and jailed opposition leader Anwar Ibrahim have patched up their differences. When Umno Youth chief Khairy Jamaluddin asked DAP veteran Lim Kit Siang, Mahathir and Anwar to jointly resign, he was actually warning Umno that the ground has shifted.
However, Khairy made a mistake. A serious one. When a "tsunami" is coming, you need to run to the highest point – the hill. You don't run to the lowest point by vouching more loyalty to a tainted brand like Umno.
---
Source : Malaysiakini byRais Hussin
RAIS HUSSIN is Bersatu supreme council member and policy and strategy bureau head.
---