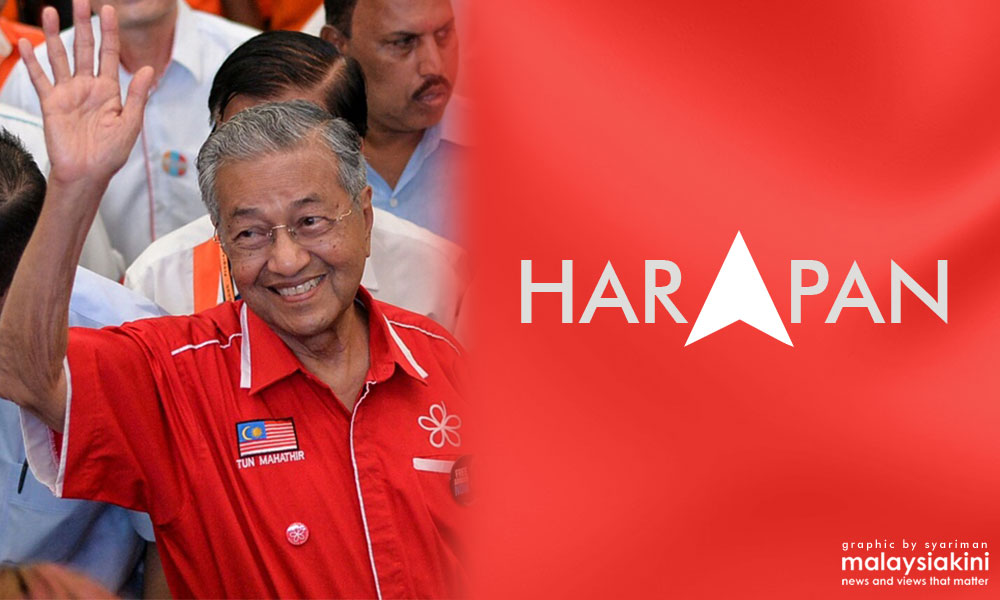 Dr Mahathir Mohamad, who has been named Pakatan Harapan's chairperson, said the coalition will appoint a prime minister and not someone on an interim basis for the post if it wins the next general election.
However, he said there has been no decision on who this person would be.
"We have not made a decision. We would not have a PM in waiting or an interim PM.
"It is not going to be interim, it is going to be a PM," he told reporters when met outside the Kuala Lumpur High Court this afternoon.
Mahathir also took Communications and Multimedia Minister Salleh Said Keruak to task for claiming that DAP has been sidelined with regard to the Harapan presidential council line-up unveiled last night.
"Nobody is being sidelined, we are all together. We are equals," said the Parti Pribumi Bersatu Malaysia (Bersatu) chairperson.
Mahathir also responded to Salleh's poser that the Harapan line-up did not make it clear as to who would have the final word.
"It is one of those things that Salleh wants to measure. He wants to measure who is tall or short, whereas he is also short," he said.
Pressed further, Mahathir said all decisions would be made based on consensus.
On Wednesday, Malaysiakini quoted sources claiming that Mahathir wanted Harapan to have a similar structure like BN, where Bersatu would emulate Umno as the dominant force in the coalition. However, this is said to have drawn opposition from PKR.
Apart from Mahathir as chairperson, the Harapan presidential council line-up comprises Anwar Ibrahim as de facto leader, Dr Wan Azizah Wan Ismail as president, Lim Guan Eng, Muhyiddin Yassin and Mohamad Sabu as deputy presidents.
The vice-presidents are Mahathir's son Mukhriz, Azmin Ali, Chong Chieng Jen and Salahuddin Ayub, whereas the chief secretary is Saifuddin Abdullah and treasurer M Kulasegaran.
Meanwhile, Mahathir also commented on Prime Minister Najib Abdul Razak's recent jibe that the latter has been told that he has done more for the Indian community than a former prime minister with Indian heritage.
"He only talks and doesn't do anything. There is also no money (to give)," said Mahathir, whose paternal roots are said to be from Kerala, India.
Earlier, the former premier testified at the hearing of Mukhriz's defamation suit against Najib's press aide Tengku Sarifuddin Tengku Ahmad.
---
Source : Malaysiakini by Hafiz Yatim
---