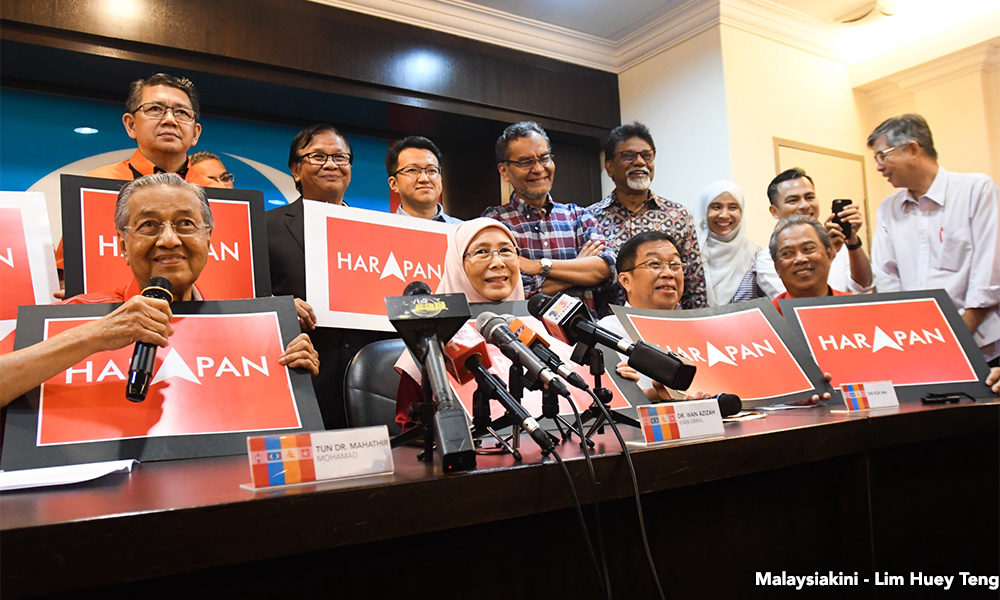 You have to go back almost a half-century, and then again beyond that, another two decades, for the antecedents of yesterday's coming together of four hitherto dissonant political parties – PKR, DAP, Amanah, and Bersatu – to make Pakatan Harapan a now viable concern.
The opposition coalition, relying on nothing more vivifying in the ancient game of politics than that it is, above all, the art of the possible, announced it had overcome what appeared to be formidable obstacles to its parturition.
It unveiled a clear leadership line-up and what is certain to be an electrifying plank of its evolving manifesto: the removal of the Good and Services Tax, a punitive exaction to save the nation from the effects of Umno-BN's wanton profligacy.
The removal of dire obstacles to making Harapan a going concern is almost certain to ease difficult negotiations towards a seat-sharing deal among its component members.
When Gordian knots are sliced 
When Gordian knots are sliced, its effects can be paradigm-shifting.
To borrow an Abraham Lincoln formulation: Harapan must now make haste, slowly.
But first the antecedents, recall of which should be sobering to Harapan's endeavour to halt and turn around the country's present gallop to the precipice.
In 1968, there occurred a gathering together of left and centrist politicians, trade unionists and academicians to form Parti Gerakan Rakyat Malaysia (PGRM).
It was a formidable array of professionals and social activists who knew that they would have to sink what differences had previously separated them to rescue the country from the torpor of 11 years of rule by the Alliance.
Essentially, that effort at national rescue was torpedoed by a sleeper issue: Malay poverty. It detonated following the race riots in the aftermath of the general elections of May 1969.
Affirmative action as panacea 
As a response, the country resorted to a panacea, affirmative action, that is widely seen as having gone badly off the rails. These days, it is an unspoken consensus that that nostrum has to be rethought and reconfigured.
Its reformulation under a Harapan dispensation ought to be informed by George Orwell's observation that all massive schemes for the betterment of people end disastrously.
Twenty-one years before PGRM's formation in 1968, Malayan oppositionists came together as the Putera-AMCJA, a motley collection of Malay socialists, trade unionists, centre-left democrats and two race-based parties (MIC and MCA).
In February 1947, they drew up a manifesto and demanded recognition from the British as the authentic representatives of the Malayan peoples.
Militant communism
As a demonstration of the support they enjoyed, they organised a hartal in October that year which brought things to a halt.
But the British, afraid their mercantilist interests would be imperilled if they relinquished power to a left-of-centre coalition, simply ignored them.
Worse, militant communism reared its ugly head eight months after the hartal with the launch of a violent campaign by the Malayan Communist Party which issued in the declaration of an emergency and the decimation of the Putera-AMCJA leadership cohort through detentions under the nefarious Internal Security Act.
Thus ended the first foray by local oppositionists at political solidarity and the spelling out of a national destiny.
Daunting divergences
This melding of seemingly disparate events in 1947, in 1968, and in 2017 may seem contrived, but in each instance, their occurrence, like yesterday's Harapan conjecture, was achieved in the face of daunting divergences in ideology and ethnicity.
That they occurred was yet another instance of the perennial human striving for a better world in the teeth of even dire obstacles.
Harapan's coalescence is happening in spite of the bitterness and vindictiveness that had poisoned the past relationships of its main protagonists.
Charles de Gaulle was right: In politics, there are no permanent friends or enemies; only interests are paramount and impelling.
Even more implausible about the Harapan convergence is that it is being led by a man who is hugely culpable for our current national blight.
The riddle wrapped in mystery 
Dr Mahathr Mohamad is not the "riddle wrapped up in a mystery, inside an enigma" that Churchill coined to describe Soviet Bolshevism.
He is only comprehensible in Machiavellian (successful leaders have to be amoral about the methods they employ) and Nietzschean perspectives (one has to make and remake one's values).
All this might seem turgid jargon-spouting.
But one thing is for sure: If he succeeds in upending Umno-BN, a thing he contributed to entrenching, he will have fulfilled the philosopher Isiah Berlin's definition of a great leader: One who transforms paradox into platitude.
---
Source : Malaysiakini by Terence Netto
TERENCE NETTO has been a journalist for more than four decades. A sobering discovery has been that those who protest the loudest tend to replicate the faults they revile in others.
---