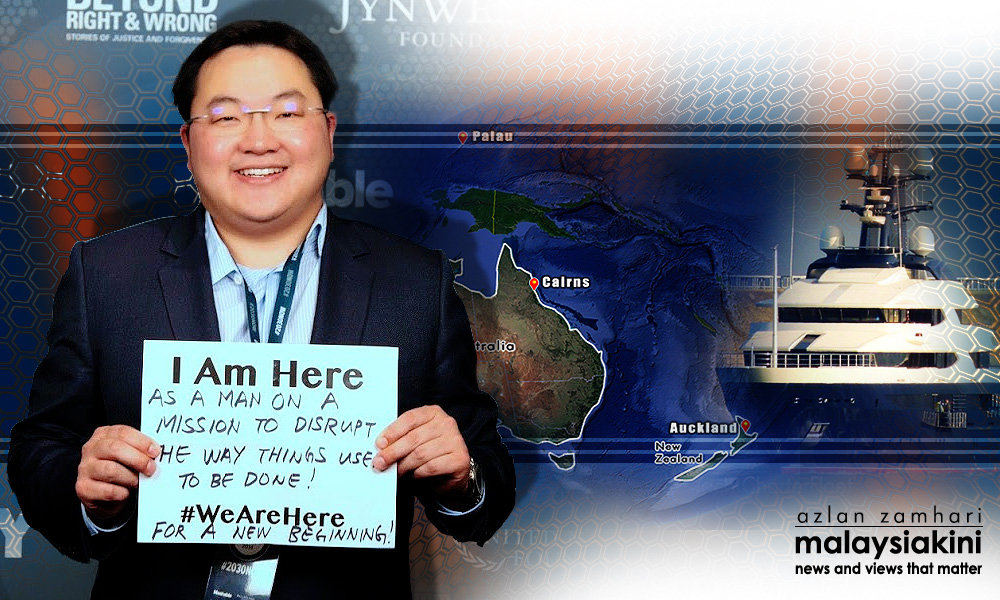 Oh, my poor Fei Chai! My darling Jho Boy! How could they do this to Mama's boy? How can they treat Mama's benefactor like this? How can they say all that rubbish in the courtroom? Luckily, we were not there to hear those nasty things that were uttered by the prosecutor. Why they dare not say it in your face? Instead, they did it behind your back.
Jho Boy, you don't deserve this. You did more for this country and its people than your adopted country – St Kitts and Nevis. You helped set up the state sovereign wealth fund, which in turn has given out millions to charity and people in need through the "profits that have been generated".
On the contrary, you were never that generous with the people who gave you a brand-new passport and presumably, a brand-new name (that was paid for in cash, we presume). Perhaps you should look for a country that would give you a brand-new guise – taking away that chubby baby-faced appearance and make you look suave and polished like a corporate businessman. Plastic surgery does not cost much these days.
Darling, have they forgotten that you are one of the world's most famous philanthropists? You gave away millions of your hard-earned (detractors would misread it as 'hardly-earned') money to good causes. Many of them are surviving today, thanks to your generosity.
Fei Chai, we are very proud of you for other reasons too. The statement you made after the courts indicted your personal banker was an act of bravado. After making RM60 million, you must have been disgusted to hear him say revolting things about you. What an ungrateful man.
You are different, my boy! You are a courageous man! You are perhaps the first to have the gall and gumption to take on the people in that tiny red dot. Its occupants are mostly silent observers, and fear prevents them from expressing their views. In its squeaky-clean environment, anything uttered in the wrong context would mean a defamation suit.
But you, my boy, you took the bull by its horns and gave them the real works instead of couching it in polite language and tone.
Yes, you are different. You got balls and you gave it to them: "No wrongdoing has been proved in any jurisdiction relating to the alleged misappropriation of 1MDB funds, and this development in Singapore does not change that." You are right. The top prosecutor at home has indirectly declared you innocent and no money was stolen. Why these islander fellas want to be keh poh?
Your claims are on the mark – any impartial party presented with the complete facts will see that the allegations are flawed, biased and create an inaccurate picture. Even if you had made money, you worked for it. You did not steal their money, why should they worry? They just want to show off their powers. Ignore them lah!
Anyway, the majority of us are angry and disappointed with your close friends and associates whom you dined and wined. They enjoyed your hospitality on your yacht and the company of glamorous Hollywood people who partied with you. Mama has one regret – she never got to dance with Shah Rukh Khan and other Bollywood hunks. Hopefully, you will rectify the shortcoming in future.
Champagne parties
Now, when someone has wrongly accused you of malfeasance, even your closest buddies seem to have abandoned you. It would be an understatement to describe them as fair-weathered friends. They are avoiding you like how they avoid sewer rats when there is an outbreak of plague.
Rewind to 2010. Remember the champagne party with Paris Hilton and other Hollywood babes? And they all downed 40 bottles of the best bubbly – Cristal champagne.
If the London-based Daily Telegraph is to be believed, your younger brother, Zhen Low, joined in the spending frenzy. He apparently was competing with Winston Fisher, a New York property developer, to see who could afford more £600 (RM3,250) bottles of Cristal champagne for their chums at a party at Les Caves du Roy nightclub in St Tropez. The website reportedly mentioned that the "two rival billionaires spent a staggering €2 million (RM9.2 million) on champagne".
Good boy! Like a good Ko-Ko with noble upbringing, you even gave your sibling pocket money to buy champagne. Why haven't these people come to give you support?
What about your university mate whom you gave millions in seed funds which eventually made him a movie mogul? And vow! His penthouse suit and collection of movie posters must have cost a fortune. He has not come to your defence, has he? Why? Perhaps, you should openly ask him to come out from hiding under his mother's skirt.
Those guys whom you gave millions to gamble in the casinos of Las Vegas, where are they? Why are they not standing up like what you have done? If you are in touch with them, you got to give them an earful.
Mama's parting advice: My boy, you have to fight this battle alone. They have left you in the trench for the enemy to take you prisoner. No one is going to stand up for you, including the recipients of the diamonds and other gifts. In some households, you are persona non-grata. There are many people including officials in the Department of Justice who cannot be bought – cannot kau tim.
All that can be said is: Come out from hiding; tell the truth; ask for forgiveness and repent. On a sad note, it must be said that you may have to give up all the trappings of high living and spend the rest of your life somewhere in Kajang, Sungai Buloh or even a correctional centre in Washington or New York. Good luck, Fei Chai!
---
Source : Malaysiakini by R Nadeswaran
R NADESWARAN says this parody is a premature ode to a man who has been keeping us entertained, enthralled and excited for over four long years.
---