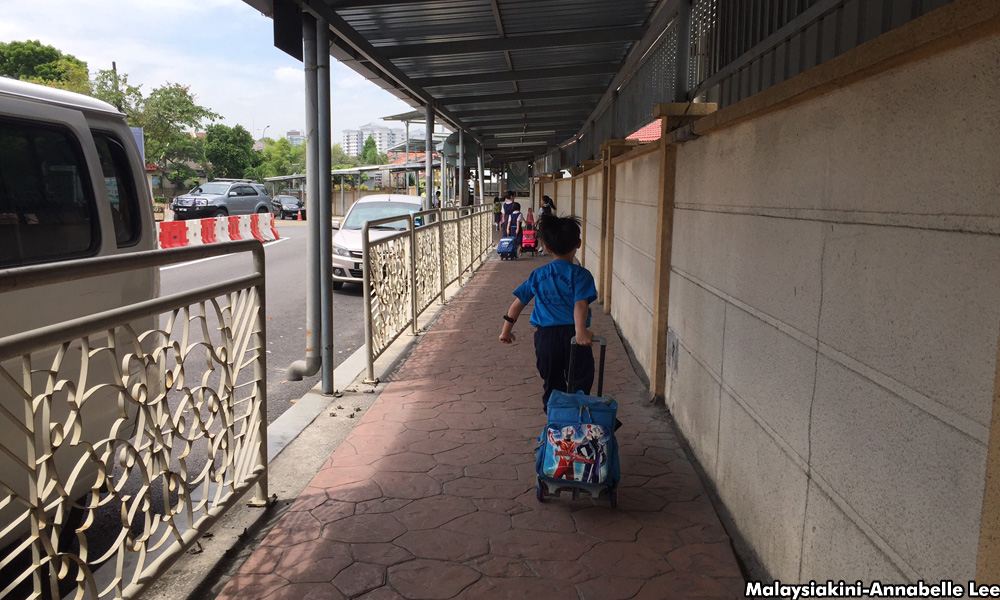 The issue of heavy schoolbags is one that affects many schoolchildren. Complaints have been made to school principals, but while there has been a lot of discussion, implementation is often found wanting.
In the case of my son's school, two parents had in fact, volunteered to put together a comprehensive report and submitted it to the school's Parent-Teacher Association (PTA). A consultant was also invited to provide a solution, and her quotation submitted.
After three months of silence, when pressure was finally exerted by the state education department, both the school's headmistress and PTA committee scurried all over to ask for both report and quotation again.
Political will
It takes a lot of political will to push for a paradigm shift. In some schools, where there has been heavy investment in digital boards, textbooks can be easily scanned and converted into portable document files (PDFs) that can be used on the digital boards.
This would save children the hassle of bringing textbooks to school. For schools that do not have digital boards, each book should be divided into smaller volumes to reduce their weight. This policy should be imposed by the Education Ministry on publishers as soon as possible.
I have communicated this suggestion to Deputy Education Minister Chong Sin Woon with the hope that this policy will reduce the weight of textbooks by at least two-thirds.
At the same time, school principals should adhere to the strict rule set by the Education Ministry on the number of workbooks each student should have. There should only be one workbook for every subject.
If there is more than one workbook that you, as a parent, are told verbally by your child to purchase, you should immediately confront the headmaster and raise the matter with the state education department as well as the press.
They can also contact Persatuan Jaringan Ibubapa Pencinta Bahasa Zhong Hua (or Jiazhong), which acts as an effective watchdog for financial and other irregularities in Chinese vernacular schools in Malaysia.
For Chinese vernacular schools, which are especially plagued with additional workbooks, public complaints should be made in order to apply pressure on the education minister to act immediately; otherwise, it will be one party protecting the other in a coverup or a matter of closing one eye.
At last count in my son's school, there were at least 22 workbooks that parents were made to buy. On top of it, in another school, parents had to purchase 10 copies of exercise books marked "Teachers' Day Edition."
If parents failed to purchase these exercise books, teachers would ask the children to buy them from the bookshops, as if the ordinary school exercise books could not be used!
When I first enquired two years ago why my son had to bring so many workbooks apart from the textbooks, she replied: "Yes, they must bring these books every day."
According to my son and other children, otherwise, their teachers would cane them if they failed to bring the books.
I left it at that, until a decision was made to do something dramatic to force the school to institute a paradigm shift. Now, I am close to demanding that his class teacher decide which other workbook, apart from the textbook, she would like the children to bring along daily.
It could be that teachers have not organised their teaching plans well, or they are stressed from having too many workbooks to cope with.
My contention is that, if the same subject is taught three days a week, it is easy to mark the covers of the books according to the day of the week. This would also reduce the bag load substantially.
However, this is only a temporary solution, because parents have already purchased more workbooks compared to the number stated in the ministry's circular.
School principals must remember that besides adding to the financial burden that parents bear, they are contributing to the stress level of teachers and children who are trying to cope with the additional workbooks. No wonder bags are so heavy.
The habits of children
Children also have a tendency to overload their bags with other items. For example, when I inspected my son's bag, I found that he had four story books in his bag. I removed three of the books and allowed him to take only one book.
To my horror, he also kept a lot of long and short pencils and empty mechanical pencil lead containers which should have been discarded a long time ago.
Most children think nothing of carrying heavy bags on their back, but they are the ones who will eventually suffer the consequences.
It takes the personal supervision of parents to ensure that unused exercise books and dictionaries are not put by children into their schoolbags. These are among other items that could be kept in the school cabinet.
Parents must not forget that there are parties with vested interests in this issue. The bottom line is that parents have to form lobby groups in order to see some positive outcomes.
---
Source : Malaysiakini by Stephen Ng
STEPHEN NG is an ordinary citizen with an avid interest in following political developments in the country since 2008.
---