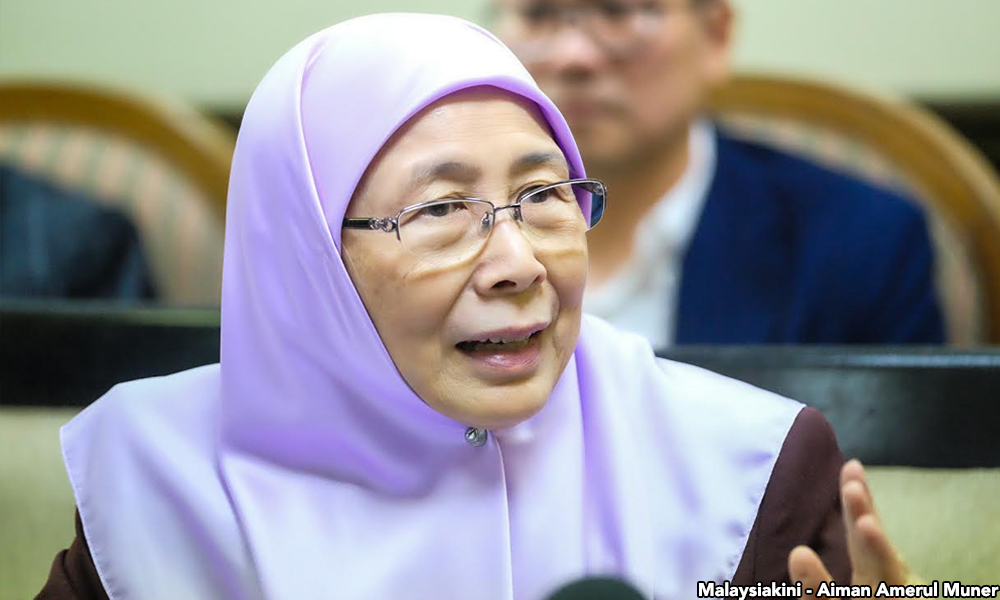 Pakatan Harapan will continue its decision-making model based on consensus, despite a change in its leadership structure, said opposition leader Dr Wan Azizah Wan Ismail.
"We are (maintaining the) consensus (model)," said the newly minted Harapan president at Kajang today.
She was responding to criticisms and questions raised about who in the coalition's top three positions – de facto leader Anwar Ibrahim, chairperson Dr Mahathir Mohamad, or herself – would call the shots when an issue arises.
Wan Azizah also slammed Prime Minister Najib Abdul Razak over his joke on Twitter, saying the new Sungai Buloh-Kajang (SBK) MRT line would help those in Kajang to visit people in Sungai Buloh in a convenient and comfortable manner.
Although Najib did not mention names, some social media users have said the post alludes to Anwar, who is currently serving a five-year jail term in Sungai Buloh for sodomy, and his wife Wan Azizah, who is Kajang assemblyperson.
Wan Azizah, who is also PKR president, said (of the joke): "I thought that was unkind. I don't think it was right to make a joke out of injustice. It doesn't come out well."
"He can sarcastically quip anything (he wants), but we want him to answer on 1MDB, come on."
Najib had also previously called the SBK MRT line as the "real Kajang Move" – a jab at PKR's failed political manoeuvre in which it attempted to replace former Selangor menteri besar Khalid Ibrahim with Anwar. Khalid was then replaced by PKR deputy president Mohamed Azmin Ali.
Wan Azizah stressed that PKR does not owe any apology for the Kajang Move, as it is a done deal.
"What is done is done, okay? And then we move on. We have seen improvements in Selangor (since then).
"Why should I (apologise)?" she replied when pressed if PKR should apologise.
Wan Azizah also claimed that the SBK MRT line, which was well received in her constituency, would not pose a threat to her as the assemblyperson.
This is because the rakyat are entitled to the mass rapid transit and it is the government's responsibility to build the public transport infrastructures, she said.
"No (I do not feel so). In politics, there are risks we have to take. But, the people know how to choose."
---
Source : Malaysiakini by  Kow Gah Chie
---