The Federal Court has fixed Oct 11 to hear and decide if it has jurisdiction over the prosecution's appeal against the striking out of the Peaceful Assembly Act charge against Bersih chairperson Maria Chin Abdullah for the Bersih 4 rally.
This follows an objection made by Maria's lawyers, led by M Puravalen and Shahid Adli Kamarudin, that since the matter came from the Sessions Court in Kuala Lumpur, the apex court had no jurisdiction to hear the case.
DPP Hamdan Hamzah said the apex court has jurisdiction because it involves a constitutional matter.
The five-member bench led by Chief Justice Md Raus Sharif then fixed the date for hearing on whether the High Court in Kuala Lumpur had acted in its revisionary role or otherwise.
The other judges were Court of Appeal President Zulkefli Ahmad Makinudin and Federal Court judges Zainun Ali, Abu Samah Nordin and Zaharah Ibrahim.
The Court of Appeal on Sept 7 last year struck out Maria's charge of failing to give 10 days' notice before holding the Bersih 4 rally, as she was charged retrospectively when the Nik Nazmi Nik Ahmad case was the law.
In her decision, Justice Tengku Maimun Tuan Mat ruled that when the two decisions (Nik Nazmi and R Yuneswaran) compete with each other, the later decision prevails.
While the general rule states it should take effect retrospectively, it must equally be in line with Article 7(1) of the Federal Constitution, she added.
"The High Court failed to consider the effect of Article 7(1). Therefore, we find merit in the appeal and the appeal is allowed," Justice Maimun had ruled.
Article 7(1) stipulates the protection against retrospective criminal laws, meaning a person cannot be punished for something which at the time when it was done, was not an offence.
Maria was charged on Nov 3, 2015, under Section 9(5) of PAA for failing to give police a 10-day notice for Bersih 4.
However, the Bersih 4 event was held on April 29 and 30 2015, and Maria was charged using the decision in the Yuneswaran case where the COA held that giving the 10-day notice was constitutional while the earlier decision in the Nik Nazmi matter held that the punishment was unconstitutional.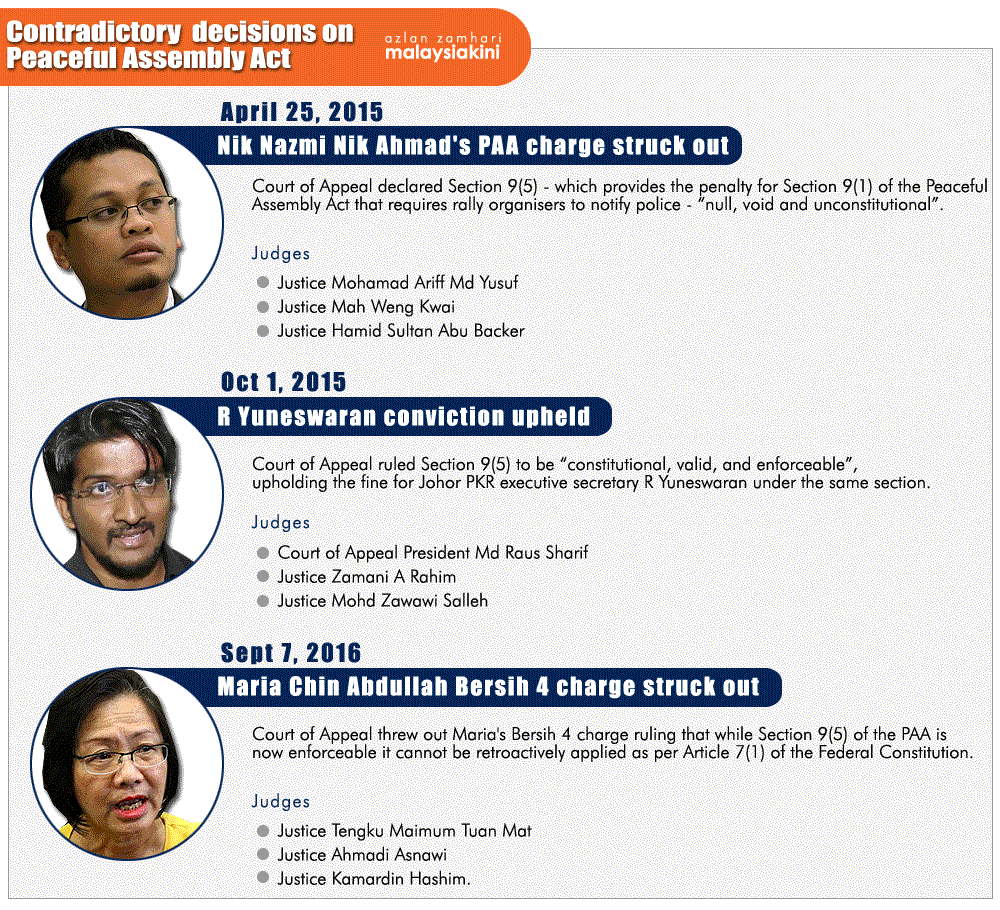 ---
Source : Malaysiakini by Hafiz Yatim
---