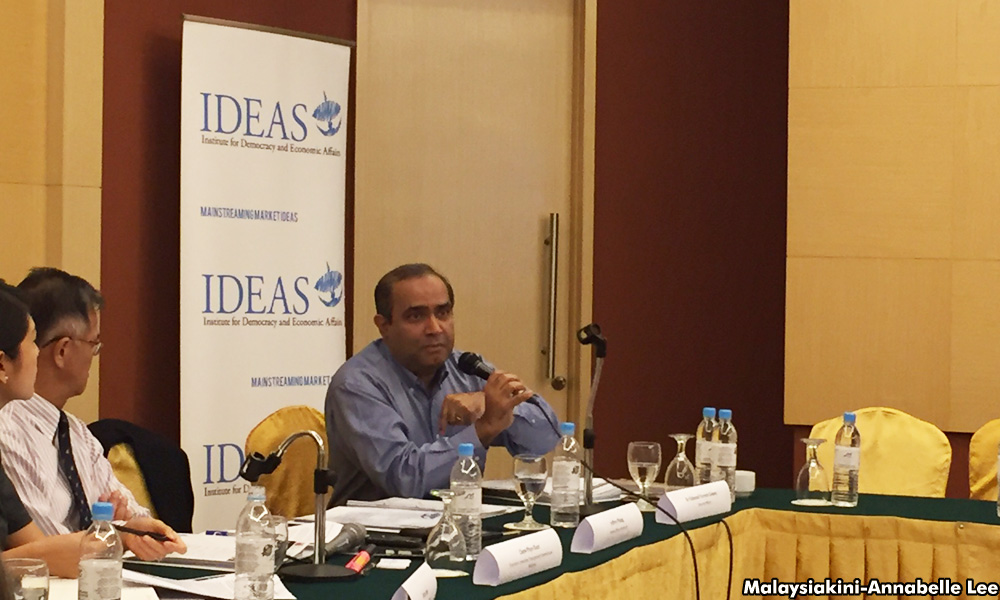 A five-point "good governance agenda" was launched today by the Governance, Integrity, Accountability and Transparency (GIAT) coalition, with hopes that parties on both sides of the political divide will adopt them into their 14th general election (GE14) manifestos.
The five points are:
Endorse legislation that will affirm the independence of institutions, most importantly the Malaysian Anti-Corruption Commission (MACC) and the Attorney-General's Chambers.
Enact a national Freedom of Information (FOI) law, review the Official Secrets Act 1972 (OSA) and adopt open data principles.
Require by law that all cabinet ministers, members of parliament, elected officials and senior public officials to publicly declare their assets.
Implement the practice of budget and expenditure transparency at all levels of government, including participatory budgeting and monitoring mechanisms.
Require by law that all political parties publicly declare all forms of income and expenditure.
The GIAT coalition is made up of five civil society organisations, namely, Transparency International-Malaysia, Sinar Project, Centre to Combat Corruption and Cronyism (C4), Friends of Kota Damansara and the Institute of Democracy and Economic Affairs (Ideas).
At the launch in Kuala Lumpur, Universiti Malaya political economy professor Edmund Terence Gomez presented on the fifth point of the agenda regarding political financing – how money is raised and spent for political purposes.
"We are not about stopping political financing but we need transparency, we need to know who is financing our political parties.
"Money politics has become so rampant within political parties…we have seen trends like vote buying, 1MDB, and how government-linked companies (GLCs) are used to garner political support.
"This culture has seeped down to the grassroots, where patronage and rent-seeking have become entrenched," he said.
Gomez was critical of the upcoming Political Donations and Expenditure Act (PDEA), currently being drafted by a committee led by Prime Minister's Department Minister Paul Low.
The committee did not discuss needs for institutional reforms and initial readings of the PDEA revealed no cap to the amount of money donated to political parties, he said.
It was previously reported that the upcoming bill would also abolish election-spending limits.
"Without the necessary institutional reforms, the law is open to abuse.
"Like how Singapore used its version of the PDEA to stymie the opposition by making sure no one wanted to (financially) support them.
"Why is the Malaysian opposition not coming out with its own version of the PDEA?" Gomez asked, directing his question at the two DAP members in the audience – Serdang MP Ong Kian Ming and Kepong MP Tan Seng Giaw.
In response to the PDEA, Gomez and a team of researchers had come up with a 75-page alternative which they presented to parties on both sides of the political divide. Every party they approached had rejected their proposal.
In the ensuing roundtable discussion, Ong admitted he found the political financing item on Giat's agenda "tricky" to agree upon.
"If it is without the other institutional reforms, it is (like) opening the door to shoot ourselves (Pakatan Harapan), knowing that it will be abused as how other laws have been abused in the past.
"I don't really see a need for Harapan to come up with an alternative (to the PDEA), because what he (Gomez) had come up with is very comprehensive," he answered.
No members from other political parties were present, despite being sent invitations in advance.
Aside from Gomez, Ideas chief operating officer Tricia Yeoh, Sinar Project coordinator Khairil Yusof, C4 executive director Cynthia Gabriel, Friends of Kota Damansara chairman Jeffrey Phang expounded on other points of the agenda.
The roundtable discussion was attended by about 20 representatives from civil society organisations including Bersih, Gabungan Bertindak Malaysia (GBM), Ikram and the association of Voices of Peace, Conscience and Reason (P-core). Representatives from Paul Low's office and the Pemandu Anti-Corruption NKRA Unit were also present.
Transparency International – Malaysia committee member Chew Phye Keat moderated the discussion.
---
Source : Malaysiakini by Annabelle Lee
---