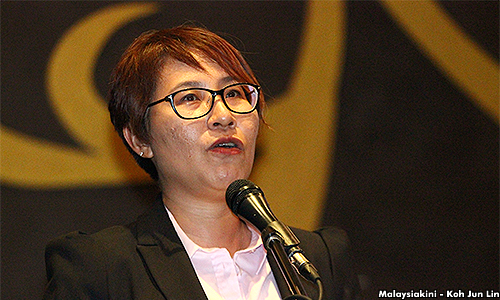 The Selangor government today cried foul on being told only today from lawyers representing the Election Commission (EC) in court that it had destroyed the electoral rolls of 1993 and 2004.
The electoral rolls of those two years were used in the redelineation exercise.
Selangor executive council member Elizabeth Wong said the state government was surprised by the revelation made in court today.
"As a practice, we (the Selangor government) do not destroy government documents and we have documents from Merdeka days. But today, we are surprised with the EC's revelation."
Wong was representing Selangor Menteri Besar Azmin Ali, who was present at the Court of Appeal earlier today, but had to leave to attend an event.
She expressed her disappointment that the EC could not produce the documents as ordered by the court.
Wong added that the state government would understand if ballot papers are destroyed after some time.
"With regard to ballot papers, it is done in front of every body. But in this case, we were only told today that the electoral rolls for 1994 and 2003, which forms the basis for the delineation exercise, were destroyed," she added.
Wong said they will consult their lawyers on their next course of action.
Earlier, a three-member bench led by Justice Mohd Zawawi Mohd Salleh allowed the EC's appeal that it need not furnish the locality of 136,272 dubious voters in Selangor for the years 1994 and 2003.
The Selangor government wanted to see the locality of these dubious voters – as the EC does not have their full addresses – and compare them with the present electoral rolls.
In March, the High Court in Kuala Lumpur had directed the EC to furnish the required documents.
Legal team to seek instruction
Lawyer Ambiga Sreenevasan said the electoral rolls for those years are needed to determine how they decided on the redelineation.
"The EC should not have done that (destroy the document) as it is government documents. If you look at the decision today, there are no grounds for the appellate court to reach the decision (in reversing the High Court order)," she said.
Ambiga added that she and her legal team would seek instruction from the Selangor government on whether to take up the matter to the Federal Court.
She added that the Court of Appeal's decision would also make the hearing of Selangor's judicial review application "difficult".
"We would like to go to court with the documents. I certainly cannot accept the argument that the documents were destroyed. This is a dangerous argument.
"These are core documents which the EC should not be allowed to destroy. It (electoral rolls) is akin to your marriage or birth certificate, I cannot accept their argument at all," Ambiga said.
Meanwhile, Bersih chairperson Maria Chin Abdullah questioned how the EC planned the delineation exercise with the electoral rolls destroyed.
She further queried whether the EC was trying to dispose of the evidence.
---
Source : Malaysiakini by Hafiz Yatim
---