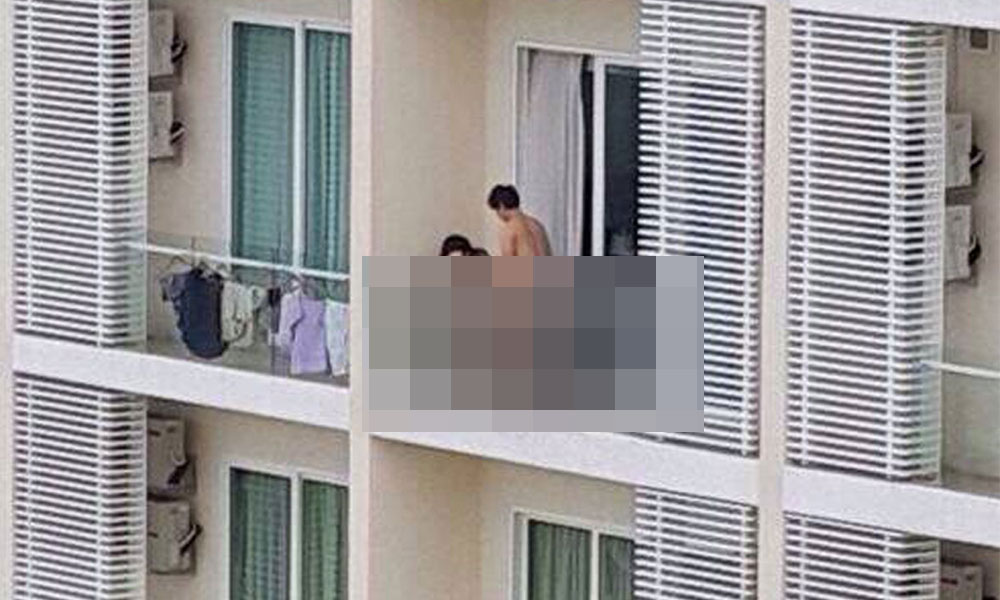 I was standing on the balcony of my apartment in SS2, Petaling Jaya, last week, sipping my hot coffee when I almost spurted it out upon seeing a couple humping each other on the stairway of the opposite flat.
The man was naked from the waist down and the woman was in her baju kurungwith her skirt lifted up.
When I spoke to my children about it, they were not surprised. Apparently, similar incidents happen every now and then in our neighbouring block.
People behaving friskily in their respective units; making-out sessions; men and women walking around in their undergarments – all done in well-lit rooms on the lower floors with all the windows wide open, ready for public viewing.
Recollecting the infamous incident at Bangsar South not too long ago where a couple were caught indulging in sexual intercourse out on their balcony in broad daylight, I suppose this kind of indecent behaviour is not really as shocking as we think it is.
I am sure we have all seen the "free shows" at parks and cinema theatres – I guess having oral sex in public, for some people, is nothing to be embarrassed about.
No wonder these days not many of us would fall off our chairs watching CCTV recordings of men satisfying themselves in front of naked mannequins in shopping malls.
Needless to say, these incidents take place all around the world. A random check on the Internet brought me to many "interesting" cases involving public sex throughout the world – sex in public toilets; sex at 7-Eleven; sex at Toys "R" Us; sex on the plane; sex in the pool; and even sex in the library (I do hope they were quiet).
The thing is, having sex in public is a common sexual fantasy which many people have.
It arouses excitement for different reasons – some people enjoy being observed while 'at it'; some are turned on just knowing there is a possibility of being seen; some are fuelled by the idea of getting caught, and some just want to tick it off their sex bucket list.
Whatever the specific reasons are, sex in public is seen as something naughty or wrong – and that's what makes the frisky behaviour "fun". It's all about the hidden rebelliousness, you know, people getting a kick from wondering if they can get away with it.
Honestly, I don't think it is wrong to get frisky or to have some fun. In fact, every relationship should include some "fun" activities to spice things up, especially when things get a bit stale. However, having an interesting sex life doesn't mean it can't also be civilised.
There are many ways to add some excitement to one's sex life without having to behave like a completely uncivilised moron.
You could fix mirrors around your bedroom and pretend that your reflections are actually other people watching and imitating you.
You could record your sexual acts and watch them with your partner over some popcorn.
You could book a hotel with tinted windows and enjoy the thrill of watching strangers walk by without risking being seen.
Or you could book a private room with a private garden, beach or pool where you and your partner can have flagrantly exhibitionist sex without anyone spotting you.
Yes, all these suggestions do incur some cost, which may be an issue for some couples.
But then again, if you are financially unstable, then perhaps you should be thinking about how to make more money to secure the lives of you and your partner, instead of wasting time shagging each other for the world to see.
As for those who are keen on public sex due to the fact that it gives you the most exhilarating and satisfying sex you can possibly have, it may be beneficial for you to know that in order to induce a state of arousal in a person's body, the body first needs to give out massive amounts of adrenaline and dopamine.
Interestingly, our body also produces massive amounts of adrenaline and dopamine when you end up running one mile being chased by a mad dog.
And, get this – according to scientists, our body cannot even tell the difference between a state of fear and a state of arousal.
So technically, instead of risking getting caught for indecent behaviour in order to get all frisky, why not allow a mad dog to do the job for you, risk-free?
Come to think of it, being caught by the police and prosecuted for indecent behaviour may also kick in a good dose of adrenaline and dopamine.
I guess the next time I see any "free shows" from my balcony, I would do them a big favour by giving the police a call. That will arouse them alright!
---
Source : Malaysiakini by Fa Abdul
FA ABDUL is a passionate storyteller, a growing media trainer, an aspiring playwright, a regular director, a struggling producer, a self-acclaimed photographer, an expert facebooker, a lazy blogger, a part-time queen and a full-time vainpot.
---