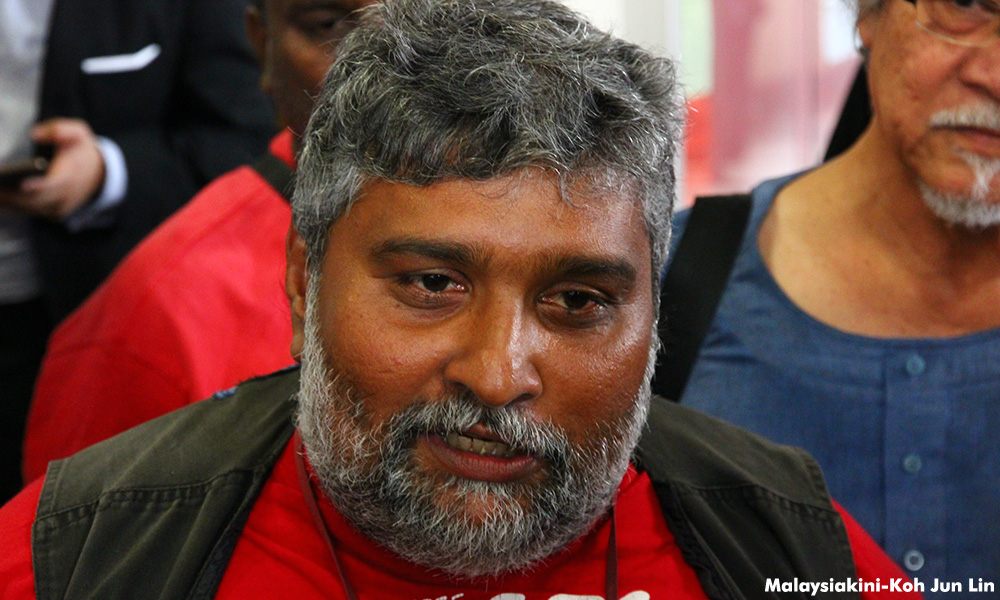 Parti Sosialis Malaysia (PSM) is expected to lock horns with Pakatan Harapan in the next general election.
This was revealed today by the party's central committee member S Arutchelvan.
He was commenting on former Otai Reformasi 1998 secretary Abdul Razak Ismail's decision to contest against Harapan parties under a PSM ticket due to his disagreement with Dr Mahathir Mohamad leading the opposition coalition.
Speaking to Malaysiakini, Arutchelvan stressed that it is not PSM's mission to contest against Harapan.
"Our mission is to stand in the election," he added.
Arutchelvan also pointed out that Harapan has not engaged with PSM in talks regarding the seats. He believes the coalition is not interested in doing so.
"They tell others they are having talks with us, but there has been no such thing. They have never called our leaders even for a chat," he added.
With PSM and PAS in the mix, the coming general election could witness four or more candidates vying for same seats.
As for Abdul Razak, the PSM leader said the party approved his request to stand under its ticket after he agreed to four criteria.
"The criteria are to declare his assets, not to indulge in racial politics, to open a service centre (in the constituency contested) and to support PSM's election manifesto.
"I believe he will contest in Sri Muda, Shah Alam. We endorsed him two months ago based on the four criteria. Furthermore, he is also a former labour and Reformasi activist," he added.
Arutchelvan had also made his feelings towards Mahathir clear in a Facebook posting last week, where he noted that the former prime minister had done nothing for the working class.
He pointed out that Mahathir remained unapologetic for his past deeds, and criticised those who were willing to turn a blind eye to this because of their desire to remove Prime Minister Najib Abdul Razak from power.
"When he was ruling, Mahathir did not allow the implementation of minimum wage, destroyed workers' unions, became the father of neo-liberalism with privatisation projects that profited cronies, (created) tolled roads, privatised basic necessities, used the ISA (Internal Security Act) and so forth…
"…apart from making his children among the richest in Malaysia. Until today, he has not repented or apologised. But all these are not important. What is important is that we defeat Najib… issues of principles, justice, truth and religion take a backseat," Arutchelvan said.
In a statement this afternoon, Otai Reformasi 1998 demanded that Harapan forms a commission to look into the allegations against Mahathir.
The movement also objected to Mahathir being appointed prime minister, senior minister or adviser if Harapan wins federal power.
---
Source : Malaysiakini
---