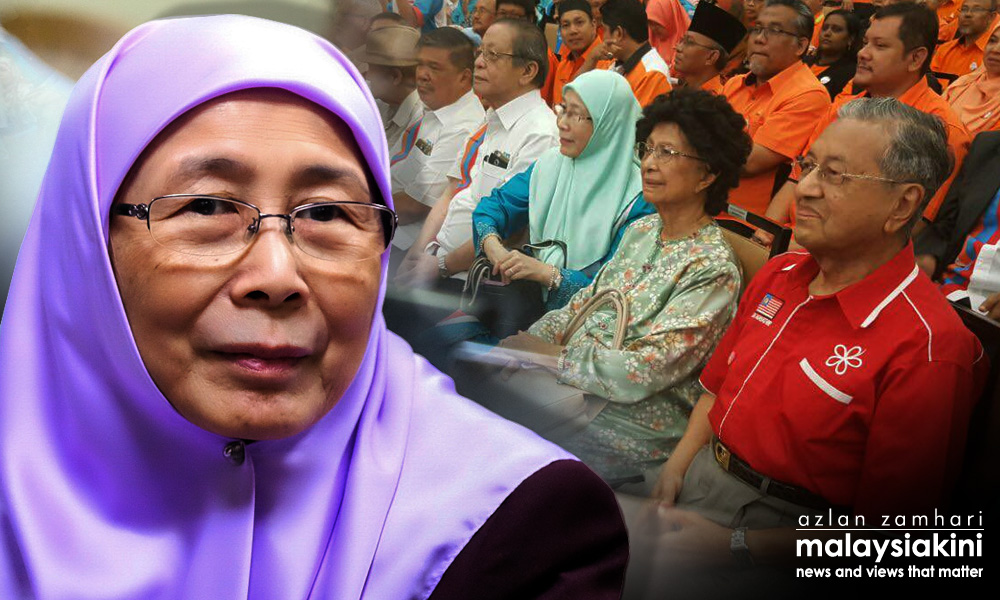 Opposition leader Dr Wan Azizah Wan Ismail found herself in a tricky situation today – whether to support the demands of her husband Anwar Ibrahim's most hardcore supporters, or to back her chairperson in Pakatan Harapan, Dr Mahathir Mohamad.
However, instead of conclusively addressing Otai Reformasi's call for Harapan to set up a commission to investigate Mahathir's alleged past wrongdoings, Wan Azizah deferred the matter.
"Let us win the (general) election first," the Harapan president said.
She did not rule out the matter completely, saying it was "OK to have an inquiry".
"I think Mahathir did mention of having a independent inquiry," Wan Azizah said.
She then deflected the matter onto 1MDB.
"Why must the government focus on (Mahathir's) forex (scandal) but not on 1MDB, after so many years? So, what we do is what the country needs," she added.
Wan Azizah said this during a press conference at her office in Parliament today.
On Monday, Otai Reformasi – a group of veteran activists who rose up against Mahathir in the late 1990s – called on Harapan to include a pledge to form a committee to investigate the former prime minister in its election manifesto.
The group also rejected Mahathir's leadership role in the opposition bloc.
"I think it is okay if you want to have an inquiry, but at the moment, we four parties agree to Mahathir as the chairperson of Harapan. People can agree or not agree, but we move on," Wan Azizah said.
Her daughter and PKR vice-president Nurul Izzah Anwar (photo) pointed out how Malaysia's past was "filled with rancour and division in a democratically flawed system".
The Lembah Pantai lawmaker believes it is important for all quarters to understand that the healing process to sow previous divisions requires time.
"As such, we respect Otai's views and reiterate appreciation for their support of the reform agenda which also includes the urgent release of Anwar.
"Inclusivity of various voices across the spectrum is part and parcel of celebrating democracy," Nurul Izzah told Malaysiakini.
The reformasi movement was born after Mahathir sacked Anwar as his deputy in September 1998.
Mahathir had accused Anwar of being immoral and unfit to lead the nation, while the latter claimed the former prime minister fabricated charges of sexual misconduct and abuse of power against him.
Following his sacking and subsequent incarceration, tens of thousands took to the streets against Mahathir, often culminating in violent clashes with the police.
After being released from prison, Anwar formed PKR and later became opposition leader in Parliament, as well as the de facto head of Harapan's now defunct predecessor, Pakatan Rakyat.
Anwar, who is currently serving a five-year prison sentence for another sodomy charge, which he also claims was fabricated, has since agreed to collaborate with Mahathir.
Last week, Mahathir once again defended his decision to expel Anwar in 1998.
---
Source : Malaysiakini by Yap Jia Hee and Zikri Kamarulzaman
---