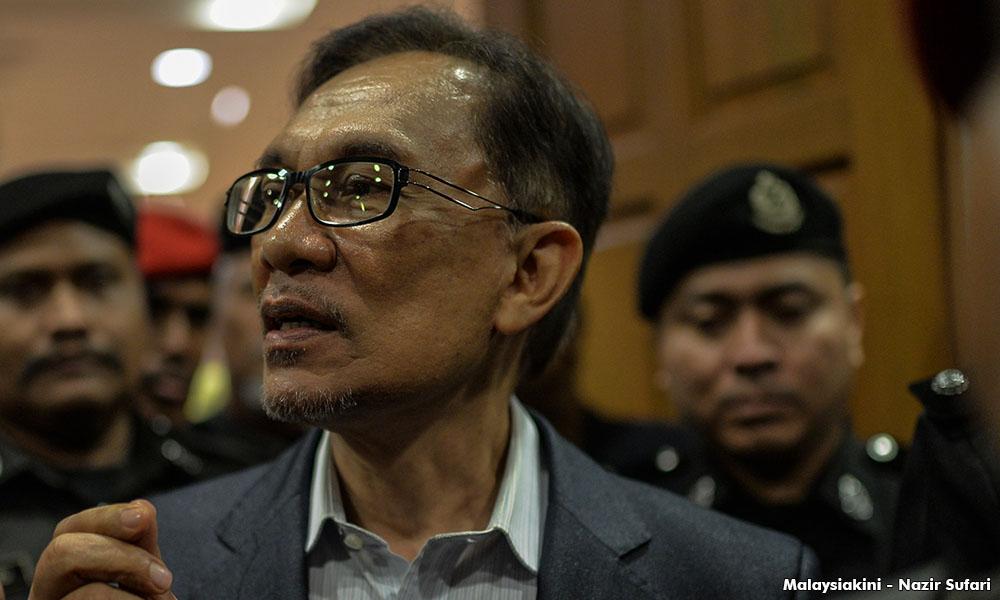 It's just as well that a symposium on the thoughts of Anwar Ibrahim at the Penang Institute yesterday began with a present poet's intimation of what the man is, and could only end with a past bard's encapsulation of how to deal with self-contradiction.
Poet Muhammad Haji Salleh, after running through the gamut of his experiences over four decades with Anwar concluded, a trifle wearily, that he did not know if "Anwar is a Muslim democrat", but the one-time national literary laureate was certain Anwar "is a special kind of democrat."
You would not be able to appreciate Muhammad's quest for the essence of the man if thereafter you hadn't heard one panellist aver that at one time in his career when Anwar was regarded as a Muslim fundamentalist, he was also holding interfaith dialogues with Christians.
Or this, from another speaker that Anwar, as a Muslim democrat, perhaps would have the solution to the nation's long unresolved puzzle: could Malaysians be plural in ethnicity and equal in citizenship?
If you felt that this melange was head-twirling enough, consider what one intrepid member of the floor did towards the end of the symposium.
Boldly asserting he was a follower of Anwar since 1972, he insisted the cancelled Q&A session be reinstated.
Permitted to ask his question, he lamented many so-called followers of Anwar were actually "passengers" who presumably would not want to deal with his question: how could a Harapan government in Penang allow huge swathes of land to be reclaimed from the sea off Tanjong Tokong, and not reserve a sliver of it for longtime squatters like he?
Of course, this question did not stand a chance of getting an answer though the man most competent to deliver it, Chief Minister Lim Guan Eng – who was present to launch the Malay version of the book that had spawned the symposium, 'Anwar Ibrahim: Evolution of a Muslim Democrat' (Anwar Ibrahim: Penampilan Demokrat Muslim) – was not on the panel of speakers.
That the question was posed at all, and in a hastily reinstated Q&A, was in a way a tribute to the hopes that the subject of the symposium has raised among the people he has inspired in six decades of political activism. That an ordinary man could have a voice.
Incidentally, one invited speaker to the symposium, a Universiti Sains Malaysia lecturer, had to beg off at the eleventh hour because his superiors rescinded their initial permission for him to participate.
That Anwar can provoke such a range of reactions, opinions and hopes is testimony to his pluralistic political personality.
Which is why the poet Muhammad Salleh's description of Anwar as "a special kind of democrat", "who is not perfect" but who is always striving, must be accompanied by the bard Walt Whitman's admission, "Very well then I contradict myself, I am large, I contain multitudes," to get a sense of the pluralism of the man, his variegated political persona.
Can Anwar provide answers?
Pluralism is a combustible word in present-day political discourse. Quranic literalists abjure it as destructive of the sanctity of their faith; free speech exponents revel in it as democracy's lifeblood.
How then is a "Muslim democrat" to tackle this contrariety?
Pace the Quranic literalists, the term "Muslim democrat" is self-contradictory: a religion that makes a distinction between believers and nonbelievers, and amongst believers between male and female, is immiscible with democracy, like water and oil.
Is it realistic to expect that "Muslim democrat" Anwar can develop an answer to the question posed by Wong Chin Huat, a fellow at the Penang Institute who was one of the symposium's speakers?
This is whether Malaysians can be plural in ethnicity and equal in citizenship. Wong said this question has been the core issue in all the political dramas in our history.
Wong feels that long periods of confinement for thinkers like Anwar are conducive of solutions to conundrums such as the one he posed at yesterday's symposium.
With his physical liberty fettered for the third time in his life – once under internal security detention and twice over dubious convictions for sodomy – Anwar may well have come up with the solution to the poser framed by Wong.
In a political career where he has clearly been all things to all sorts, it appears his final incarnation in Malaysia's political dramas would have to be as the "Muslim democrat" of biographical suggestion, or as the "special kind of democrat" of poetic intimation.
Would the fact that the word "democrat" appears in both appellations be a cause for optimism about the future?
---
Source : Malaysiakini by Terence Netto
---