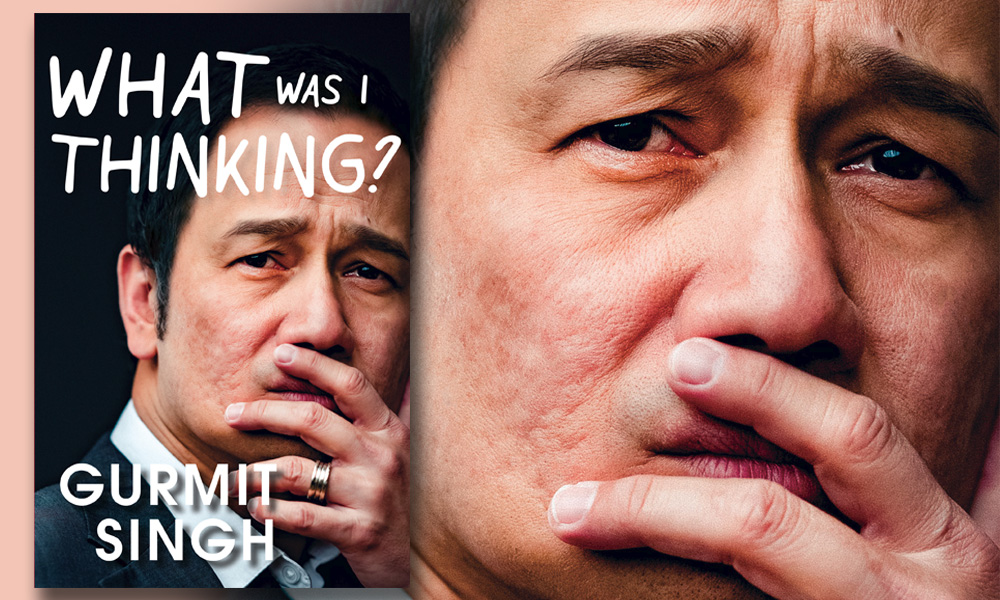 Years ago, I remember reading a book by an executive chef at a reputable hotel chain, with all the hilarious stories from the kitchen, but no book beats this one by Gurmit Singh.
The eponymous star of the hit Singaporean sitcom Phua Chu Kang often declares himself as the "best contractor in Singapore, JB and some say Batam".
His autobiography entitled What Was I Thinking? is packed with interesting stories from his own life which explain why Gurmit is who he is. Sometimes, in the midst of our own political and socioeconomic woes, it is good to enjoy a light and entertaining book like this one.
For those who pick up this book from the local bookshop, the book cautions its readers: "This is not a how-to book on being a better entertainer, but you will walk away with a better understanding of this man."
Gurmit's childhood
After reading his book, even I am starting to think like Gurmit.
He was born in Kandang Kerbau Hospital – what a name for a hospital! After a long and painful labour, the baby Gurmit finally arrived at 11.54pm on March 24, 1965, short of just six minutes before midnight.
I wonder: If his head had started coming out at 11.59pm and the whole labour process was over by 12.01am, would he celebrate his birthday on the twenty-fourth or twenty-fifth of March? Or, would he wait till midnight to blow his candles every year? That would have been a six-million dollar question for the ah beng contractor to figure out.
There are many short stories in this book. One particular story that had me in stitches happened when he was in Primary One, or the first year of primary school. It was kind of "Don't play, play!" yet hilarious when you read between the lines.
Using Gurmit's own words, "hilarious yet not so happy", there was an incident when a boy's finger was jammed in the door of the school bus that Gurmit and other children were riding in. There were altogether eleven kids in the car! I can almost imagine Phua Chu Kang saying, "Don't play, play!"
Using his own words, Gurmit wrote about the school bus being packed like sardines: "In fact, it was really bursting at the seams."
Realising that the boy's finger was still caught in the door, everyone shouted to the driver, whose bus had already started moving. The driver slammed the brakes and Gurmit opened the door. The boy's finger was released, and bleeding, but all that the driver could say was, "Okay" and just drove off.
In another incident when he was in Primary Three, the nine-year-old Gurmit was literally run over by his own school bus. The car door gave way and he fell to the ground when the car was moving! It was his school bag that saved him from breaking his backbone. But the left rear wheel rolled over his thighs.
"I looked down at my thighs and there were Dunlop type marks on them!" Gurmit writes.
Tell me, was this comical or simply shocking when the driver merely shouted, "Oi! Come in!"?
An unorthodox star
A new talent was discovered when he auditioned for a musical called 'Poverello'. Although he had volunteered to play a small part as one of the crowd, Gurmit was picked to play the lead role of St Francis of Assisi.
He was pleasantly surprised and in his own words, "it was more like FREAKING OUT CRAZY SCARED!" Typical of the character, Phua Chu Kang!
He accepted the challenged and one rehearsal after another, he was ready to be replaced by someone else, but it didn't happen.
"Playing the role of St Francis," he wrote, "really made me think about my own character. I questioned myself, whether I was humble enough, caring enough of others around me or generally kind enough even to strangers."
While serving in the Music and Drama Company, a unit of the Singapore Armed Forces, which performed and entertained soldiers, Gurmit told of a trip they made to Mount Ophir. Like most people, a photograph to remember the place was a must, but instead of the normal poses, he "climbed down to a rocky ledge and posed in an upside down breakdance position".
No wonder this trait of his of wanting to do something out of the blue with his life has taken him to where he is today. After reading this review, short as it is, I am sure you will want to read the entire book to find out who the man is behind the sitcom character Phua Chu Kang.
---
Source : Malaysiakini by Stephen Ng
STEPHEN NG is an ordinary citizen with an avid interest in following political developments in the country since 2008. But sometimes, he tries to get away from the vexing moments of life with a good book.
---