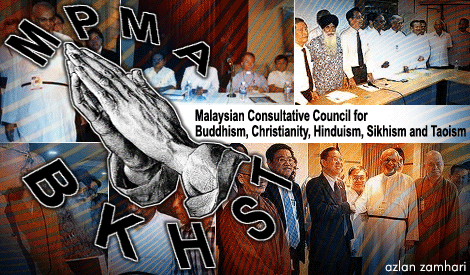 An interfaith council said the proposed amendments to the Syariah Court (Criminal Jurisdiction) Act 1965, also known as Act 355, will create a syariah criminal system which is parallel to the Federal Constitution, and thus, is unconstitutional.
The Malaysian Consultative Council of Buddhism, Christianity, Hinduism, Sikhism and Taoism (MCCBCHST), in a statement, said that crimes such as theft, robbery, sodomy (for which the amendments intends to increase the punishments) are already covered by the Penal code, and thus, are unconstitutional.
The council was responding to PAS president Abdul Hadi Awang, who had in an open letter on July 20, asked to give "the Islamic approach a chance."
"Why can't they (non-Muslims opposing Act 355) give the Islamic approach to politics, economy, and society, without any compulsion to leave their religions, a try? Even if they don't accept it, do not become an obstacle," Hadi had said.
In response, the council turned the focus back at Hadi by saying it was him who was going against "the core fabric and basic structure of the Federal Constitution" for trying to introduce Hudud offences.
"The Federal Constitution embodies the social contract which was agreed to during the formulation of our constitution.
"(This) essentially provides for secular law and secular institutions subject to the exception permitted in State List II."
State List II (Ninth Schedule) of the Federal Constitution of Malaysia 1957, states that procedures of Syariah courts can only have jurisdiction over persons professing the religion of Islam.
The council also said that various documents, such as the Alliance Memorandum, the Lord Reid commission Report, and the White Paper issued by the British government in June 1957, show that Malaya was intended to be a secular state.
The council then reiterated its call for elected Members of Parliament to vote against Hadi's bill in Parliament.
---
Source : Malaysiakini
---