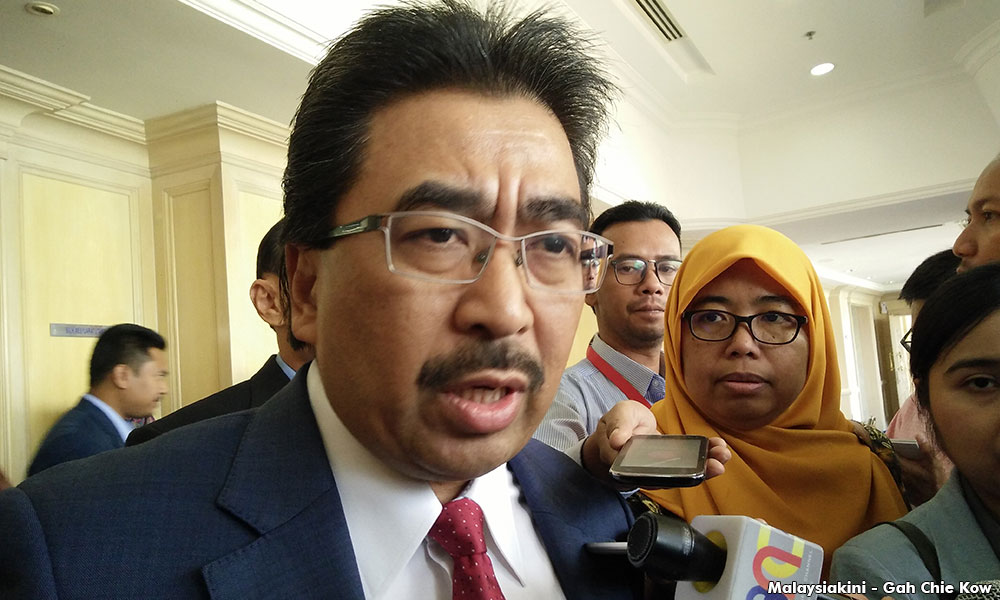 1MDB, which failed to meet its July 31 deadline to pay the International Petroleum Investment Company (IPIC) US$602.5 million, has not asked the government for help.
This is according to Second Finance Minister Johari Abdul Ghani who was asked if the government will help to pay IPIC.
"No. You don't assist people when people don't come to you. This has not come to the prime minister (Najib Abdul Razak) and myself," he said.
"Since they have not come to the Finance Ministry, we are not going to get involved at the moment. This should not be an issue that you raise at this moment.
"1MDB is a company that is dealing with IPIC, which is also a company. So, let the company deal with another company," he told the media at Putrajaya after chairing the 2018 Budget Focus Group Meeting.
Since the 1MDB board has stated that the state-owned company will be able to repay IPIC, he added, let 1MDB settle the matter.
"When you reach the stage where the company cannot handle (the repayment), then we will talk at that level," added the Umno supreme council member.
"Don't create something that has not happened yet," he cautioned.
Johari said the media should not ask hypothetical questions as this is not how the government was run.
IPIC is pursuing US$6.5 billion from 1MDB. Both firms reached a settlement before arbitration process could take place in London.
The total amount 1MDB will be paying IPIC is US$1.205 billion (RM5.16 billion) as part of a settlement agreement.
This payment is the first of two expected from 1MDB to IPIC. The second transaction of equal amount is due by Dec 31 this year.
1MDB admitted that it was unable to fulfil its payment obligations because funds that it was supposed to receive in July has been delayed to August.
1MDB and Ministry of Finance Incorporated (MOF Inc) have five business days to "remedy" the failure to pay IPIC and its subsidiary Aabar Investments PJS (Aabar).
It is also worth noting that the Finance Ministry, who is the guarantor, will have to meet any of 1MDB's obligations if the firm fails to do so.
Previously, Johari said that he was confident that Malaysia would win the case had it gone to arbitration.
To a question posed to him today, Johari denied that he was vindicated by the latest development.
Meanwhile, Johari was also asked about the Auditor-General's Report 2016 which pointed out the finance minister's role in getting an unqualified contractor to build Bera Hospital via direct negotiation.
The minister said he has yet to read the report.
"I have not read the report. Once I read it, I will come back (to the media)," he said.
The RM88 million hospital, intended to serve some 92,000 people within the Bera district and relieve overcrowding at Temerloh Hospital, some 45km away, was supposed to have been completed on Jan 9, 2015, but was only 57 percent ready as of December 2016.
---
Source : Malaysiakini by Kow Gah Chie
---