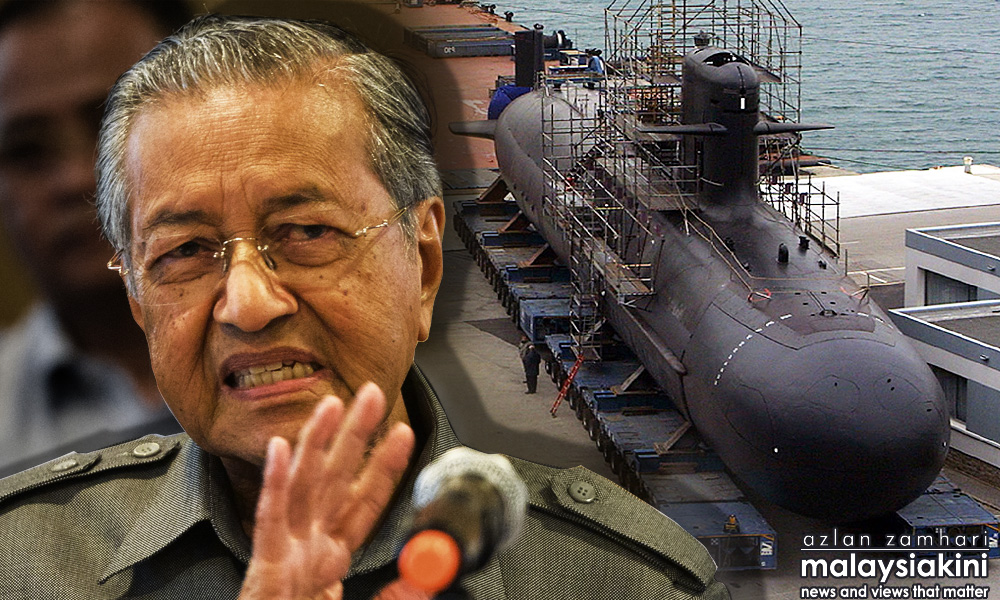 Dr Mahathir Mohamad said the cabinet did not discuss the purchase of two French naval submarines during his tenure as prime minister.
According to The Malaysian Insight, Mahathir said he would have opposed the acquisition because it was too costly and unsuitable for Malaysia's shallow waters.
"I never wanted to buy the submarines because we could not use them. We can't use submarines in the Straits of Malacca, And, we didn't have the money. The cost was high.
"But suddenly, after I resigned, I found out that the defence minister had made an order for two submarines.
"The decision was probably made when I was prime minister, but I was not informed of it," he said.
Malaysia's acquisition of two Scorpene-class submarines from France's DCNS was inked in June 2002. At the time, Najib Abdul Razak was defence minister. Mahathir's tenure as prime minister ended in 2003.
Mahathir said Malaysia's military was organised for defence and a submarine, which he described as a tool for aggression, was not suitable.
"Who are we supposed to fight with? We don't have any plan to go to war with Indonesia or Singapore.
"I'm anti-war. I don't believe we can resolve any conflict through war. Yes, we must have soldiers, but our soldiers are for defence," he said.
Mahathir said Najib had kept a low profile in his cabinet. He said that as far as he was aware, Najib did not commit any offences.
The submarine purchase is currently the subject of investigations by French authorities over alleged kickbacks.
So far, four French nationals and Malaysia's political analyst Abdul Razak Baginda are reportedly under probe.
Abdul Razak's office has stressed that he is not facing criminal charges by the French authorities.
To learn more about the Scorpene affair, read our Kiniguide: Dredging up the DCNS Scorpene scandal
---
Source : Malaysiakini
---