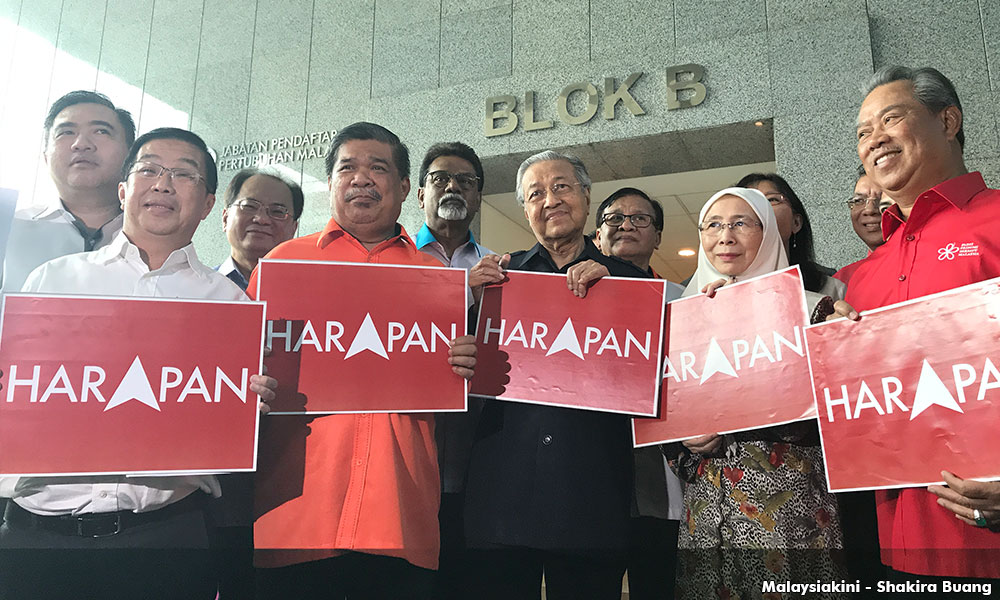 One of the joys of forming Pakatan Harapan is the brotherhood, indeed a strong esprit de corps, formed amongst Bersatu, PKR, Amanah and DAP.
Mohammad Sabu, for example, used to share the same jail cell with Lim Guan Eng, when both were arrested under Operation Lalang in 1988.
When they meet Dr Mahathir Mohamad, the then prime minister and home affairs minister, who signed the order to have them imprisoned under the advice of the then inspector-general of police Haniff Omar, there was much smiles and laughter all around.
The jail term, though hard, made them better humanists. In turn, Mahathir knew that had he taken the effort to know the duo better, and probably Anwar Ibrahim too, none of the trio would have been put in jail.
Mahathir's empathy is also another reason to rejoice. Instead of urging his son Mukhriz Mahathir to be competitive, he encouraged him and Muhyiddin Yassin to close ranks with all of them.
Lim Kit Siang, too, did not seek any apology or compensation. Despite the hardship he went through as a political prisoner, he retained his dignity and honour to encourage his underlings like Liew Chin Tong and Tony Pua to respect elders like Mahathir and Muhyiddin.
Dr Wan Azizah and Nurul Izzah Anwar deserve to be respected too. Despite the pain of being separated from her husband and father, respectively, they are seizing the opportunity to "Save Malaysia." A commendable and noteworthy effort indeed.
When you look at what these politicians wear, they range from plastic Casio watches to simple white shirts, kebaya and hijab. Nothing opulent.
None of the members in Harapan have ever been indicted on corruption-related charges. None. In contrast, the international jurisdictions in six countries have taken to imprisoning all the bankers connected to 1MDB, which by now must mean, "Sapu Malaysia".
More importantly, the importance of Islam has never been challenged by DAP. Liew's own Bachelor's thesis from the Australian National University was on the progressives in PAS who have since formed Amanah.
Raja Bahrin Shah Raja Ahmad of PAS is also a royalty in his own right but carries no air of arrogance. As an architect, one of the best in Islamic architecture, he has made the good choice to understand how some Malaysian architecture has gone overboard in becoming Arabized.
Khalid Samad, the MP of Shah Alam, may be a strong and garrulous speaker, and at times abrasive. But he listens as well at any policy meeting. The same goes for the affable Azmin Ali, who brings breadth and balance to the table.
The key decision makers in DAP – often seen as the bogeyman of the Malay – are always for pro justice, transparency and accountability, all of which are powerful values in Islam.
Mahathir knows he has a winning combination. And, if all sides can confine Barisan Nasional to a straight fight, the leadership of Najib Abdul Razak will be seriously and severely damaged.
The key, however, is to build a winning combination that can reform Malaysia for the benefit of the next generation and beyond.
---
Source : Malaysiakini by Rais Hussin
RAIS HUSSIN is Bersatu supreme council member and policy and strategy bureau head.
---