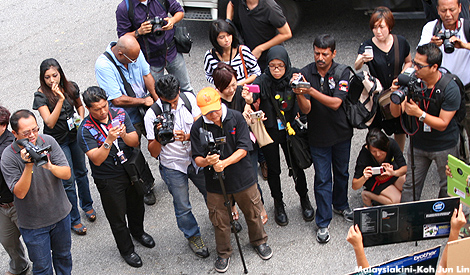 Two weeks ago, DAP advisor Lim Kit Siang criticised reporters who questioned him about his place of birth. Pertubuhan Minda Sosial Prihatin alleged that Lim's Wikipedia page stated that he had arrived in Malaya in 1957 but that information was erased 12 days ago. And of course, Malaysian reporters sought some clarification from Lim.
If only the reporters had done their homework, they wouldn't have incurred the wrath of Lim, a former reporter himself. "I was a reporter before and if the story is trash, I will investigate first. So investigate before posing the question, otherwise it will reflect on you and your newspaper," he lectured the media.
But weren't the reporters aware that anyone can write or amend Wikipedia entries, except in limited cases where editing is restricted to prevent disruption or vandalism.
I have always supported ethical journalism and was always in the forefront when politicians claim they had been "misquoted" or the issue was "taken out of context" after they put their feet in their mouths.
This time around, I will not and cannot support the cause. The reporters got what they deserved. A simple search would have revealed the truth. But why did they have to take the words of a discredited leader of an NGO? Remember Lester Melanyi and his claims?
In those not-so-olden days, we only knew "engine" as a mechanical device of a car or a gadget that could be found in factories. Even if you checked all the available dictionaries, you wouldn't have found "google" in any of them. The reporters' research skills were restricted to the thousands of news clippings, neatly pasted on newsprint and placed in files according to the subject. In those old days too, a reporter's tools were a pen, a notebook, a typewriter and perhaps, the Oxford Dictionary.
These days, information can be retrieved at the click of a mouse and downloaded for reference. No hassle of having to beat the clock before the library closes because such systems operated round-the-clock and 365 days a year.
Couldn't they have typed "Lim Kit Siang" on their smart phones and found the answer? Yesterday, the Wikipedia entry for Lim said: "1941: Born in Ramesh Rao House, Johor, British Malaya now Malaysia."
With these kinds of entries, would any reporter worth his salt raise any question? Are these the new breed of reporters being groomed to work as zombies as instructed by editors with political agendas?
Or are editors afraid of the threat made by Deputy Prime Minister Ahmad Zahid Hamidi in one of his fiery speeches which were laced with threats three years ago?
In what has now become his infamous speech as home minister, Zahid's nonsensical tirade and his innocuous links to a secret society were recorded and went viral. In that recording, he threatened to shut down newspapers which reported his speech.
'Fake news'
Understandably, editors want to look after not only their rice bowls but those of hundreds of colleagues who have a role in getting the newspaper to your doorsteps. When show-cause letters are issued for all the wrong reasons, there is sometimes a need to stand up to bullying. Punishing one or two section editors with suspensions to pacify the demigods is taking the easy way out.
Any reporter, writer or editor has nothing to fear if he has collated the facts he has gathered and leave no doubt on their accuracy and truthfulness.
When was the last time one read about the shenanigans of 1Malaysia Development Bhd (1MDB) in the mainstream media? Well, according to most newspapers, there's nothing wrong with the company to merit any mention including its inability to make payments towards its bonds.
These days, our politicians despite having despised American policies, views and values, have embraced US President Donald Trump's definition of "fake news". Anything not acceptable to them or critical of the government is deemed such. To add some form of authenticity, the government has spent money on a website to "identify" fake news.
Reporters, journalists and editors are not purveyors of fake news. Our responsibility is to inform and educate our readers so that they can make their views and decisions. If someone is accused of stealing, is it wrong to report it? If someone has not paid his debt, would it be fake news if details of such are already in public domain?
This has been said before and it is worth saying it again: Like other human beings, we are not infallible. We have our strengths and weaknesses; we have our ups and downs; we have great days and bad days. Not all of us go out to spin or doctor stories to suit our paymasters. But when we put pen to paper, our thoughts are always with our readers.
Footnote: As I complete this article, Malaysiakini has reported that the Home Ministry and its secretary-general have been ordered to pay damages for the suspension order issued against The Edge from July 27 to Sept 21 last year over a series of reports on 1MDB. A great day for good journalism.
---
Source : Malaysiakini by R Nadeswaran
R NADESWARAN is an award-winning veteran journalist who writes on bread-and-butter issues with one agenda – a better quality of life for all Malaysians irrespective of colour, creed or religion.
---