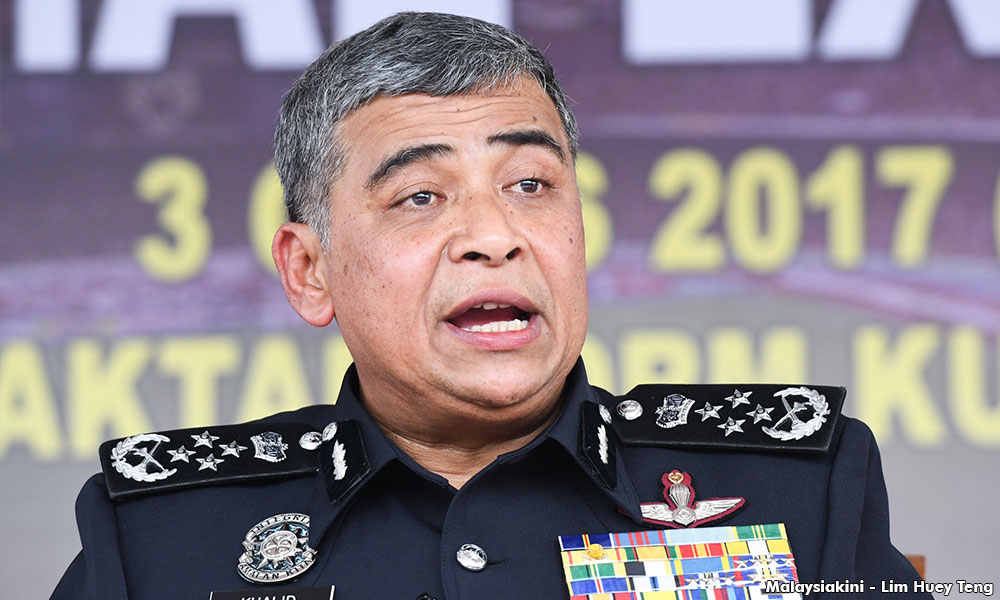 It is most amusing to think that the Twitter King, Khalid Abu Bakar, will soon swap his gun for an apron.
Khalid is the inspector-general of police (IGP). When he officially retires on tomorrow (Sept 5), the IGP has said that he will pursue a culinary course at the Malaysian Institute of Baking (MIB) in Petaling Jaya.
Perhaps, he will open a mamak stall, in Putrajaya, after he graduates from MIB?
Will he cook up a storm in his new chosen career? There is a saying that if you cannot stand the heat, you should get out of the kitchen. When he was the top cop, Khalid escaped the controversies surrounding him and kept his job. Fortunately, good cooks are more responsible.
Khalid, the IGP, ruled with an iron fist. He bent the laws as he saw fit. He was not answerable for his crimes.
Ask the mother, Indira Gandhi, whose daughter was kidnapped by her convert husband, Ridhuan Abdullah. Ask the family of A Kugan who died when in police custody when Khalid was the CPO in Selangor.
Ask the parents of teenager Aminulrasyid Amzah, who was killed when police pumped 17 bullets into him, for taking a joy ride. Ask Zunar, who was slapped with nine charges of sedition for his tweets.
Khalid bowed to the bigots in government and claimed that the two laws, syariah and civil, conflict. Khalid claimed that Aminulrasyid had parangs stashed in the boot of his car. Khalid claimed that Kugan died from asthma and sudden death. When people like Khalid occupy top jobs, public confidence in the police force falls. The rakyat do not think they can get justice.
To cook, knowing what to do is vital
There are key rules to which Khalid must abide by if he wants to be a cook. Preparation is key. Sourcing fresh ingredients is a must. Knowing what to do, how much to use, and when to add the ingredients, are vital.
In cooking, the freshness of the ingredients is key. The police prevaricated when taking action against the abductors of Pastor Raymond Koh. Vital clues were lost. Crucial evidence was overlooked. Social media is full of complaints against the police, for their delay and inability to act on fresh leads.
Will the new chef be able to follow instruction, or will he take short cuts? In cooking, one must have patience and years of experience may be needed to hone a particular skill.
When baking bread, one must allow the yeast time to rise before kneading the dough until it is soft and pliable. Khalid may want to rid Malaysia of criminals, but shooting first, then asking questions later, will not lead to a low perception of crime. The end does not justify the means. Proper procedure must be followed. Suspects must be arrested and brought in for questioning. There are no short cuts if justice is to be seen to be done.
Will Chef Khalid be as outspoken as Chef Wan, who has no qualms about calling a spade a spade? On a flight to Bangkok, Chef Wan faced his miserable looking nasi lemak, and used social media to describe his anger at MAS' treatment of our national dish. Khalid is averse to the truth. When Zunar tweeted about the judiciary, in Anwar Ibrahim's Sodomy II trial, Khalid arrested the cartoonist.
At some point in his life, a chef will be confronted by angry customers who reject his dish. IGP Khalid's response to criticism about the administration was to arrest those who complained.
Similarly, cooks with an attitude problem will fail. Gordon Ramsay will make mincemeat out of Khalid. His withering comments, in colourful language, will turn Khalid's ears red.
Any cook who cheats is only kidding himself. People know. The taste, texture and appearance are dead giveaways. Most people are too polite to accuse a person, who passes off a shop-bought cake, as one he has made himself. In the end, the wannabe chef loses credibility.
Bombs set off in the car park
Will Khalid understand that deception is not helpful? When people were waiting for the final verdict in the Anwar Ibrahim Sodomy II trial in January 2012, bombs were set off in the car park, at the Jalan Duta court complex.
People suspected police collusion because Najib Abdul Razak and Khalid wanted a distraction. They also wanted to deny Anwar and his supporters a reason to celebrate. To this day, the IGP has failed to update us on the outcome of the bombing incident.
Khalid has also dismissed reports of nepotism, saying that the firearms company belonging to his daughter obtained its licence before he became IGP. When Khalid leaves, will she continue to win bids to supply firearms, or will she have to move into the catering business?
The latest scandal to rock Bukit Aman was the discovery that Khalid, his brother-in-law and his son enjoyed close ties with the criminal mastermind, Gopinathan Krishnan, aka Gopi. Gopi allegedly collects bribes, from protection rackets involving illegal gambling centres and prostitution dens in Malacca.
Everyone has a price. Everyone is involved in making deals. When Khalid leaves, will the investigation into Gobi's crimes be dropped?
Fear and respect are two different things. The people feared Khalid, the IGP, not because they respected him, but because he was a brute and a bully. Let us hope that he will be a better cook than an IGP.
Too many cooks spoil the broth. Too many people have their fingers in the pie. Too many people have cooked the books. Will the rakyat ever see Bukit Aman cleaned up?
A good chef takes care of his tools and his kitchen. He does not leave it messy, for others to tidy-up after him. Right now, the allegations of policemen taking bribes mean that someone has to clean up Bukit Aman. Will the new IGP do this?
---
Source : Malaysiakini by MARIAM MOKHTAR
MARIAM MOKHTAR is a defender of the truth, the admiral-general of the Green Bean Army and president of the Perak Liberation Organisation (PLO).
---